Clinton goes East: Ukraine first stop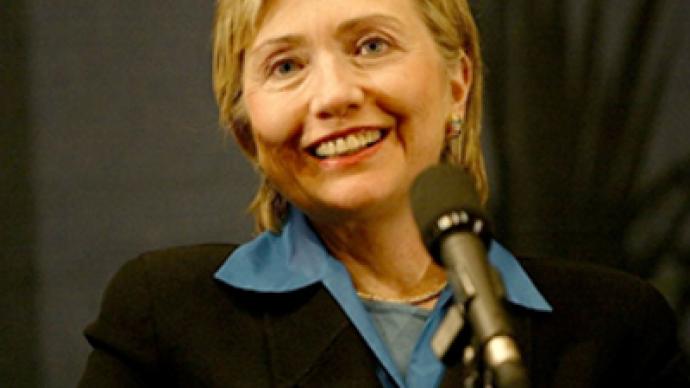 US Secretary of State Hillary Clinton is arriving in Ukraine, on the first leg of her European and Caucasian trip. Energy, economy, defense and the development of democracy are expected to top the agenda.
It is the fourth Clinton visit to Ukraine, though her first as Secretary of State. It is expected that America's top diplomat will meet President Viktor Yanukovich – who came to power in February this year – Foreign Minister Konstantin Grishchenko, and the ex-prime minister, the opposition leader Yulia Timoshenko.
"Strategic partnership" between Washington and Kiev will be the focus of Clinton's visit, said Philip Gordon, Assistant Secretary, Bureau of European and Eurasian Affairs. She will participate in the second meeting of the US-Ukraine Strategic Partnership Commission, which was set up a year ago, during Vice President Biden's visit to Ukraine.
"[The Secretary] will be following up on President Obama's meeting with President Yanukovich at the Nuclear Security Summit, where Ukraine took the historic decision to get rid of all of its highly enriched uranium," Gordon said during a briefing prior to the trip. "That was a very significant step in our efforts to prevent nuclear terrorism worldwide. And that decision is being implemented as we speak, and the Secretary will have a chance to follow up on how that is proceeding."
"The symbolism of Ukraine's democratic progress still matters for the region and beyond, and the Secretary will be highlighting our hopes for the protection and advancement of democracy in Ukraine," he added.
Having agreed to "reset" relations with Russia, the US is also making an effort to build ties with other former Iron Curtain states. Since Barack Obama took office, American priorities in foreign policy have changed from those of the Bush administration, but so have the Ukrainian ones.
Pro-Western Viktor Yushchenko was replaced by Yanukovich, who is seen as a more pro-Russian leader and, unlike his predecessor, is not seeking NATO membership. While the previous president put relations with Moscow as a low priority, Ukraine's new president is being rather pragmatic in trying to reach balance between East and West.
The first face-to-face meeting between Yanukovich and Obama on the sidelines of the US nuclear summit back in April brought dividends to both parties. Ukraine's intention to give up its stock of highly enriched uranium – about 90 kilos – by the summer of 2012, much of it this year, was very much welcomed by Washington and, in fact, paved the way for Clinton's visit to Kiev.
"This is something that the United States has tried to make happen for more than ten years. The material is enough to construct several nuclear weapons," White House spokesman Robert Gibbs said at the time. "This demonstrates Ukraine's continued leadership in non-proliferation and comes in an important region where we know a lot of highly enriched uranium exists," he added.
In addition to being star at the summit and being praised by the Obama administration, Yanukovich was offered technical and financial help by the US.
At the same time, Kiev is ironing out differences with Moscow – a legacy of the previous leadership – and seeking stronger ties with its neighbor. One of the most significant steps has been Yanukovich and Medvedev's singing of an agreement in April, which extends the lease of Russia's Black Sea Fleet base in Ukraine's Sevastopol for 25 more years beyond 2017.
Commenting on the move, Hillary Clinton said that Washington did not see it as Kiev's drift toward Russia, rather as an attempt to balance the state's foreign policy. "I think that given Ukraine's history and geographic position, that balancing act is a hard one, but it makes sense to us," she added.
Outlining the policy Ukraine is going to pursue, Yanukovich said, as cited by Deutsche Welle: "My aim is that, in the triangle of EU-Russia-US, Ukraine will find its place and its national interests. We have to find equilibrium."
Now Kiev and Washington are looking for new approaches in relations and Clinton's visit to Kiev can give both countries a chance for a fresh start.
After visiting Ukraine, the US Secretary of State will travel to will travel to Poland, Azerbaijan, Armenia and Georgia.

Natalia Makarova, RT
You can share this story on social media: