Hawaii's Big Island bans biotech companies, GMO crops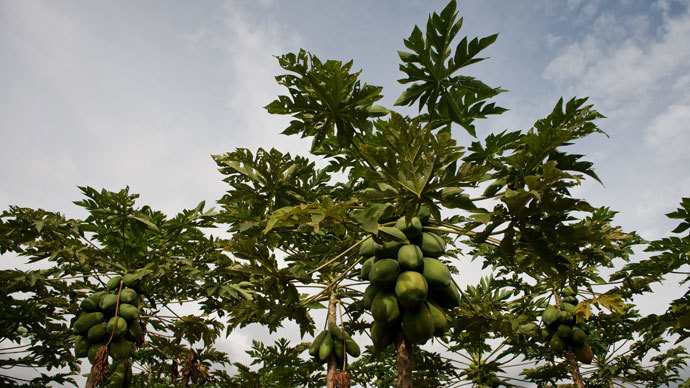 The governing council for Hawaii (or Big) Island Tuesday banned biotech companies from operating on the island while barring growth of genetically modified organisms.
The Hawaii County Council approved Bill 113 by a vote of 6-3, which would mandate a possible 30 days in jail and up to a $1,000 fine for any violator of the ban on growing genetically modified organisms (GMOs) on Big Island, officially known as Hawaii Island, the largest and southernmost of the Hawaiian state.

The bill also keeps out biotech giants like Monsanto, Dow and BASF, which have operations on other Hawaiian islands. One of them, Kauai, recently advanced its own legislation that increases regulation of biotech companies there.
The large papaya industry, with around 200 farms on Big Island, would be exempt from the bill, which was supported over a competing bill that that would have subjected papayas to the rules.
Big Island Mayor Billy Kenoi has 10 days to decide whether to approve the council's bill. The council could override a veto by Kenoi with a vote from six members.
"We are at a juncture," Councilwoman Margaret Wille, who introduced the bill, said to Honolulu Civil Beat of the Big Island. "Do we move forward in the direction of the agro-chemical monoculture model of agriculture, or do we move toward eco-friendly, diversified farming?"
Civil Beat reported extensive public testimony on the bill in September, marked by passionate statements by several residents.
"Forcing genes of one species into another and changing the DNA of plants is not natural and could turn out to be a huge danger, similar to nuclear disasters, for our planet that we can't put out," one woman testified.
Supporters of the ban linked cancer, birth deformities, tumors, sterility and other conditions to GMO consumption.
Yet small farmers worry the measure, aimed at much larger companies, will leave them without access to new technologies that could aid their operations, Civil Beat reported.
"How can you say you can only farm what you are farming now?" Dean Okimoto, president of the Hawaii Farm Bureau, said. "You may be putting guys out of business by restricting what they can and cannot use going forward. The cattle guys are depending on trying to develop a drought resistant grass."
Supporters of GMOs say adverse effects of food that comes from the manipulation of an organism's genetic material are unproven at this point. The US Department of Agriculture says over 80 percent of corn and over 90 percent of soy in the US, for instance, are GMOs.
Yet science is also inconclusive on whether genetically engineered products cannot cause long-term harm to human health. At least, that is the consensus held by the several dozen countries which have banned or severely restricted their use worldwide.
"While risk assessments are conducted as part of GE product approval, the data are generally supplied by the company seeking approval, and GE companies use their patent rights to exercise tight control over research on their products," the Union of Concerned Scientists says about GMOs. "In short, there is a lot we don't know about the risks of GE - which is no reason for panic, but a good reason for caution."
The organization - a broad coalition of scientists and citizens dedicated to "rigorous, independent science" without "political calculations or corporate hype" - adds there are concerns about GMOs beyond basic health problems that have been linked to their consumption.
"Rather than supporting a more sustainable agriculture and food system with broad societal benefits, the technology has been employed in ways that reinforce problematic industrial approaches to agriculture," the Union states. "Policy decisions about the use of GE have too often been driven by biotech industry PR campaigns, rather than by what science tells us about the most cost-effective ways to produce abundant food and preserve the health of our farmland."
Citizens of Washington State recently defeated - by a small margin - a referendum that would have required the labeling of genetically altered foods. The anti-labeling campaign was supported by a flood of overwhelming donations from titans like Monsanto, PepsiCo and Grocery Manufacturers Association, a major lobbying group for the food industry.
Los Angeles is also considering a ban on the cultivation, sale and distribution of genetically modified organisms.
In July, widespread opposition to GMOs led Monsanto to largely cease pushing them in the European market, where they face substantial government oversight.
You can share this story on social media: