Obamas' lavish Halloween party amid American crisis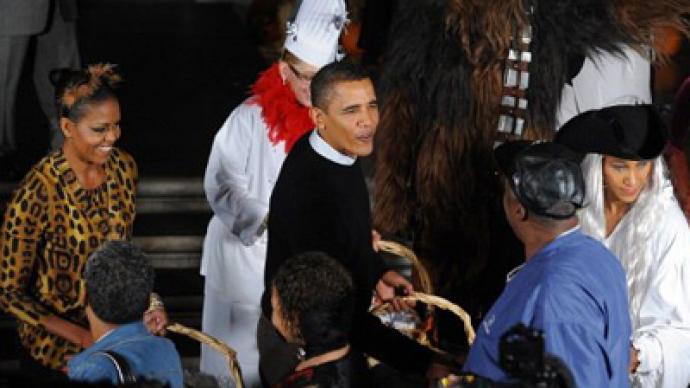 If you lived in America in October 2009, odds are pretty good that it sucked. The unemployment rate was 10.1 percent (the highest since the early 1980s) and the recession had all but ravaged the economy.
But if you were friends with Barack Obama, you might have had the time of your life.While the rest of the country was collapsing and millions of Americans reconsidered the hope and change that they were promised only a year earlier, President Barack Obama and company hosted a lavish party at the White House complete with top-notch décor and an A-list of Hollywood hot-shots. The Obamas celebrated their first Halloween on Pennsylvania Avenue by inviting thousands of area kids to trick or treat at their historic home during a well-publicized press even, but later on in the evening an invite-only soiree in the White House hosted Johnny Depp and Tim Burton as a lavish theme party inspired by the Alice in Wonderland film transformed the Obama household into a Hollywood set."Fruit punch was served in blood vials at the bar. Burton's own Mad Hatter, the actor Johnny Depp, presided over the scene in full costume, standing up on a table to welcome everyone in character," writes New York Times correspondent Jodi Kantor in her upcoming tell-all exposé The Obamas, scheduled to hit bookstore shelves soon. The event occurred in conjunction with the release of Burton's revamped version of the Alice in Wonderland story and the director went all out by re-doing the White House "in his signature creepy-comic style.""His film version was about to be released, and he had turned the room into the Mad Hatter's tea party, with a long table set with antique-looking linens, enormous stuffed animals in chairs and tiered serving plates with treats like bone-shaped meringue cookies," writes Kantor.Meanwhile, others weren't quite as lucky. While President Obama was serving up punch alongside Johnny Depp, the employment status of young black men in America that month was at 44.9 percent — only one out of every two African-Americans under 24 had jobs. And while thousands of DC homeless were going cold on the streets of the nation's capital, Obama invited into his home an actor donned in the original Hollywood Chewbacca costume, after Star Wars director George Lucas dispatched entertainment of his own to go into the White House."White House officials were so nervous about how a splashy, Hollywood-esque party would look to jobless Americans — or their representatives in Congress, who would soon vote on health care — that the event was not discussed publicly and Burton's and Depp's contributions went unacknowledged," Kantor writes in The Obamas.In the two years since that lavish Halloween get-together, the first family has been ridiculed by the media for continuing splurges and extravagant spending. Even last month, critics attacked President Obama for promising the press that he would delay his Christmas vacation to iron out tax legislation in the White House — only for him to authorize two round-trip jaunts to Hawaii for his family and then himself, a holiday that has estimated to cost Americans around $4 million.Kantor's revelations is the icing on the cake for Americans feeling disenfranchised by a growing elite class of Americans and charges of a Washington in cahoots with Wall Street amounting daily. In response, the White House responded to Kantor's book on Monday, dismissing it as old news not worth discussing. "If we wanted this event to be a secret, we probably wouldn't have invited the press corps to cover it, release photos of it to Flickr or post a video from it on the White House website," White House spokesman Eric Shultz says in a statement.
You can share this story on social media: