FBI agents storm out from Senate hearing to avoid testifying on Insider Threat program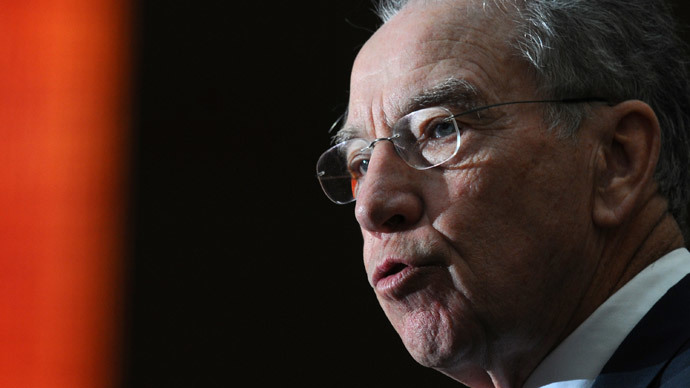 ​It's been two-and-a-half years since the United States government unveiled an insider threat program to keep classified networks and sensitive intelligence secure, but the officials in charge would literally rather storm away than speak about it.
From the floor of Congress last Thursday, US Senator Chuck Grassley (R-Iowa) acknowledged that the interagency Insider Threat Task Force established in 2012 "for deterring, detecting and mitigating" future potential risks "was intended to train federal employees to watch out for insider threats among their colleagues." But media reports in the years and months since, as the senator put it, have suggested "that this program might not do enough to distinguish between true insider threats and legitimate whistleblowers."
Indeed, a McClatchy News report on the program published last summer called the initiative into question and suggested that federal employees all but spy on their own colleagues for displaying any behavior that could even be considered remotely suspicious. Grassley said allegations about the efficiency of the program prompted him to request details from the Department of Justice, but months of waiting anxiously for answers from the feds came to a head earlier this April with the official in charge sneaking out of the Senate in the middle of the highly anticipated hearing.
Grassley said last Thursday that he asked the Federal Bureau of Information for Insider Threat Program training materials four months ago, but was told to schedule a hearing instead to have his questions answered. That event was eventually scheduled for the week prior to last Thursday's comments, but Grassley now says that not only did the FBI fail to bring the materials he requested to that hearing, but that his attempts to ask the bureau for details directly from the officials in charge of the program quickly fell apart after mere minutes.
"Unfortunately, neither my staff nor Chairman Leahy's staff was able to learn more, because only about ten minutes into the briefing, the FBI abruptly walked out," Grassley said. "FBI officials simply refused to discuss any whistleblower implications in its Insider Threat Program and left the room. These are clearly not the actions of an agency that is genuinely open to whistleblowers or whistleblower protection."
Indeed, one of the only details he was able to divulge from the director of the Insider Threat Program was a bizarre attempt at reassuring Sen. Grassley that federal whistleblowers are, contrary to his concerns, able to speak up about alleged government malfeasance without fearing they'd be treated as an insider threat or, as WikiLeaks source Chelsea Manning found out, sentenced to decades in prison for publishing state secrets.
According to Grassley, the head of the Insider Threat Program told the staff at the Senate hearing earlier this month ahead of his spontaneous exit "that there was no need to worry about whistleblower communications."
"He said whistleblowers had to register in order to be protected, and the Insider Threat Program would know to just avoid those people," Grassley recalled.
"Now I have never heard of whistleblowers being required to 'register' in order to be protected," Grassley said during the most recent Senate hearing. "The idea of such a requirement should be pretty alarming to all Americans. Sometimes confidentiality is the best protection a whistleblower has."
One of the latest intelligence leakers to serve as a thorn in the side of the Obama administration has been Edward Snowden, the former government contractor who last year started sharing classified documents about the US National Security Agency with the media. And as he's insisted several times since, the whistleblower protections authorized by the president and touted by the White House would have done nothing to aid him had he chosen another way of exposing the NSA's wrongdoings.
"Returning to the US, I think, is the best resolution for the government, the public, and myself, but it's unfortunately not possible in the face of current whistleblower protection laws, which through a failure in law did not cover national security contractors like myself," Snowden said during an online question-and-answer session last year.
"One of the things that has not been widely reported by journalists is that whistleblower protection laws in the US do not protect contractors in the national security arena. There are so many holes in the laws, the protections they afford are so weak, and the processes for reporting they provide are so ineffective that they appear to be intended to discourage reporting of even the clearest wrongdoing. If I had revealed what I knew about these unconstitutional but classified programs to Congress, they could have charged me with a felony," he added.
Speaking last week before the Senate, Grassley said that the intelligence community has to confront the "issue of distinguishing a true insider threat from a legitimate whistleblower."
"This issue could be impacted by both the House- and Senate-passed versions of the intelligence authorization," he added, either of which includes language that would allow the government to continuously monitor security clearance holders. No matter which way the administration goes, however, Grassley said that "we have to balance detecting insider threats with letting whistleblowers know that their legitimate whistleblower communications are protected."
"Those that fight waste, fraud, and abuse in government should be lauded for their patriotism," he said.
An executive order signed by President Barack Obama in October 2011 mandated that the government establish an interagency Insider Threat Task Force "for deterring, detecting and mitigating" future potential risks like the one posed a year earlier by Chelsea Manning — a US Army intelligence analyst who downloaded a trove of sensitive documents and shared them with the anti-secrecy website WikiLeaks. When McClatchy News came into possession of internal documents last summer, however, they wrote a report calling into question the ability of the program to do as promised.
"Government documents reviewed by McClatchy illustrate how some agencies are using that latitude to pursue unauthorized disclosures of any information, not just classified material," their report read. "They also show how millions of federal employees and contractors must watch for high-risk persons or behaviors among co-workers and could face penalties, including criminal charges, for failing to report them. Leaks to the media are equated with espionage." Elsewhere, documents seen by McClatchy reports suggested that some government agencies consider "certain life experiences," including stress, divorce, financial problems or frustrations with a coworker as being able to "turn a trusted user into an insider threat."