'Do you have any bombs?' Woman sparks police raid with 'pressure cooker' Google search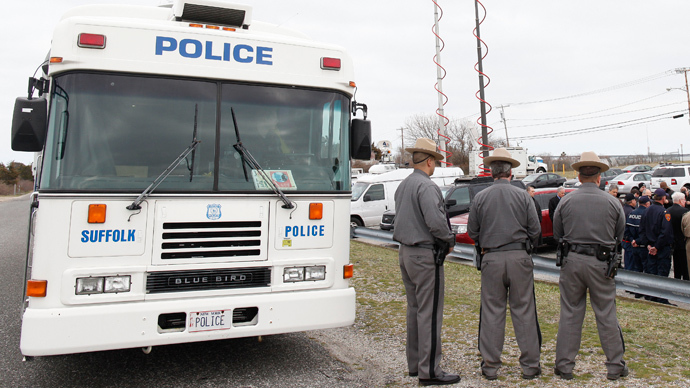 An anti-terror squad raided the home of a New York family weeks after random Google searches for "pressure cooker", "Boston Bombing" and "backpack" turned into "a perfect storm."
Take a woman's love for steamed Quinoa, her husband's appetite for a backpack plus a dash of her son's love of current events and you have the perfect recipe for a police raid.  
That's what allegedly happened to Michele Catalano, who lives in Long Island, New York. Catalano said her web searches for pressure cookers, coupled with her husband's search for a rucksack and her son's insatiable interest in the Boston bombings turned into what she believed was a "perfect storm of terrorism profiling."
Catalano, a professional writer described the police search in an article on Medium.com. Her initial suspicion that her family's Google searches were being monitored proved unfounded after the story had already gone viral, when the police revealed in a statement they had been acting on a tip from a local employer who noticed the search history on a work computer. 
"Suffolk County Criminal Intelligence Detectives received a tip from a Bay Shore based computer company regarding suspicious computer searches conducted by a recently released employee. The former employee's computer searches took place on this employee's workplace computer. On that computer, the employee searched the terms 'pressure cooker bombs' and 'backpacks,'" the statement read. 
"After interviewing the company representatives, Suffolk County Police Detectives visited the subject's home to ask about the Internet searches. The incident was investigated by Suffolk county Police Department's Criminal Intelligence Detectives and was determined to be non-criminal in nature." 
Catalano's fears were based, at least in part, on the information disclosed in the leaks from former National Security Agency contractor Edward Snowden. Snowden's disclosures revealed the existence of the PRISM and Tempora web monitoring programs, which allows the US government to access American's emails, chat logs, and other Internet activity in the same of protecting national security. 
She described the fear her husband felt when he saw six casually dressed men step out of the three sports utility vehicles that pulled up in front of the family's home.
"A million things went through my husband's head," she wrote. "None of which were right. He walked outside and the men greeted him by flashing badges. He could see they all had guns holstered in their waistbands." 
While the agents made a cursory search through the residence, "they were peppering my husband with questions. Where is he from? Where are his parents from? They asked about me, where was I, where do I work, where do my parents live."
"Do you have any bombs, they asked. Do you own a pressure cooker? My husband said no, but we have a rice cooker. Can you make a bomb with that? My husband said no, my wife uses it to make quinoa. What the hell is quinoa, they asked."
The officers left 45 minutes later without incident, except to leave Catalano stunned and nervous. Near the end of their visit, after the police were sure Catalano's husband did not pose a threat, they told him how frequently they search peoples' homes. 
"They mentioned that they do this about 100 times a week," she said. "And 99 of those turn out to be nothing. I don't know what happens on the other one per cent of visits and I'm not sure I want to know what my neighbors are up to." 
An FBI spokesman told The Guardian that Bureau agents had not been to the home, but that "she was visited by Nassau County police department…They were working in conjunction with Suffolk County police department." 
While Catalano said the officers identified themselves as members of the joint terrorism task force, the FBI told The Atlantic Wire that the JTTF "did not visit the residence." The Suffolk and Nassau police departments, the spokesman said, are two of the 52 police agencies across the country that participate in a federal JTTF program that deputizes local law enforcement. "Any officers, agents, or other representatives of the JTTF did not visit that location." 
The National Security Agency has struggled to explain its surveillance methods that monitor millions of Americans' Internet activity since the Snowden leak. NSA Director General Keith Alexander has denied the agency peruses data it collects on Americans, only logging it for a vague future use. 
"I felt a sense of creeping dread take over," Catalano wrote. "What else had I looked up? What kind of searchers did I do that alone seemed innocent enough but put together could make someone suspicious?"
"This is where we are at. Where you have no expectation of privacy…Where you have to watch every little thing you do because someone else is watching every little thing you do," she continued. 
"All I know is if I'm going to buy a pressure cooker in the near future, I'm not doing it online. I'm scared. And not of the right things."
You can share this story on social media: