Google's Schmidt predicts encryption will end censorship in a decade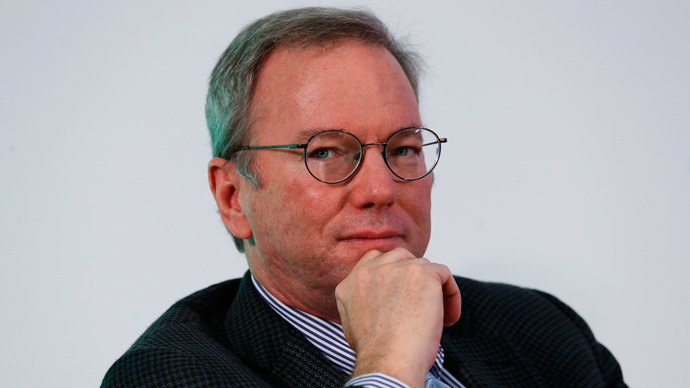 The executive chairman of internet giant Google predicted during a lecture this week that the global eradication of online censorship could come in just ten years' time.
Eric Schmidt, who formerly served as CEO of Google until 2011, was a guest speaker on the topic of "Technology as a Spark for Growth" at Johns Hopkins University when he made the remarks Wednesday afternoon.
"I believe there's a real chance that we can eliminate censorship and the possibility of censorship in a decade," Schmidt, 58, told an audience on the school's Washington, DC campus, according to Reuters' Alina Selyukh.
"First they try to block you; second, they try to infiltrate you; and third, you win," he said. "I really think that's how it works. Because the power is shifted."
Schmidt's remarks were made months after a he embarked on a personal trip to North Korea, where he told Wednesday's crowd that he attempted to get people in the largely disconnected country to try and see what a powerful tool the internet is.
"My view is that if we can get some connectivity, then they'll begin to open the country, they'll begin to understand other systems," he said.
But according to Schmidt, he was unsuccessful in that mission. "It's clear that we failed. But we'll try again," he said. With regards to neighboring China, however, where the colloquial "Great Firewall" has hindered open internet access to the country's one-billion inhabitants, Schmidt said people there and in other nations where censorship and surveillance are prominent could help end that oppression by resorting to encryption.
"The solution to government surveillance is to encrypt everyone," Schmidt said, according to Reuters.
Selyukh added in her report that Schmidt boasted of Google's recent decision to increase the length and complexity of its own encryption keys, and equated the public's necessity to constantly encrypt their data by new standards as a "game of cat and mouse" between governments and internet users.
Aside from the situations in North Korea and China, however, Schmidt's comments come in the midst of an ongoing scandal pertaining to the United States government's persistent use of tools and tactics to eavesdrop on the online communications of foreigners. Leaked classified documents disclosed to the media earlier this year by former contractor Edward Snowden suggested that the US National Security Agency was gaining direct access to the servers of internet companies, including Google, for alleged intelligence gathering and counterterrorism purposes, and subsequent revelations have indicated that the NSA even unlawfully tapped into the foreign networks of Silicon Valley companies to collect customer data in an decrypted state.
During the lecture, Schmidt suggested that the spread of encryption tools and the subsequent knowledge needed to employ them properly could eventually end censorship.
"It's pretty clear to me that government surveillance and the way in which governments are doing this will be here to stay in some form, because it's how the citizens will express themselves, and the governments will want to know what they're doing," Schmidt said. "In that race, I think the censors will lose, and I think that people would be empowered."
You can share this story on social media: