Literal Android: Google develops robots to replace people in manufacturing, retail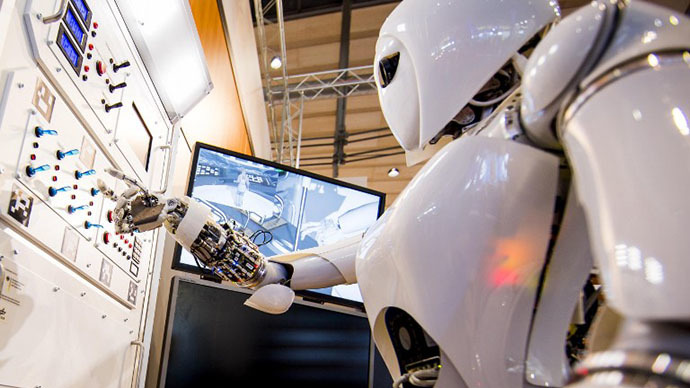 Now that the mystery surrounding the elusive Google barges in the San Francisco Bay reported last month has been brought to light, the Silicon Valley giant is announcing another new endeavor: robots.
Yes, robots. Speaking to the New York Times for an article published this week, Google exec and former Android CEO Andy Rubin revealed that the search engine company's next big project is predictably another space-age effort that, if history is any precedent, is sure to transcend the realm of science fiction and soon be as commonplace as, say, the cell phone.
"His last big bet, Android, started off as a crazy idea that ended up putting a supercomputer in hundreds of millions of pockets," Google CEO Larry Page told USA Today this week. "It is still very early days for this, but I can't wait to see the progress."
According to Wednesday's article in the Times, Rubin and company are indeed exploring with robotics, and not exactly starting from scratch, either. Google has rather secretly acquired seven new technology companies during the last six month, the paper's John Markoff reported, and in doing so have added the names of some rather impressive robotics professionals to their portfolio.
Don't freak out just yet, though: Google isn't necessarily assembling an army of robo-overlords. Markoff reported that while Google isn't saying much about what they're working on, it will be a project not aimed at consumers. Instead, Google is expected to use their new robotics teams to dabble in manufacturing in order to compete with another big internet name that so-far has been largely unscathed by Google wrath on the web: Amazon.
Only last week, Amazon CEO Jeff Bezos announced preliminary plans to rely on unmanned aerial vehicles, or drones, to deliver packages to customers in select US markets. And while the jury is still out on whether or not Amazon will be able to pull that feat off, acquiring some a slew of robotics experts and putting them under one of the most valuable companies in the world will likely give Google an advantage, or at least, a fighting change, at revamping the way it does business as well.
"Google's robotics ambitions and Bezos's drone PR should be a reminder to investors that they are not only investing in the trend lines of the current financials, but in the future vision and broad ambitions of these companies," Ben Schachter, an analyst at Macquarie, wrote in a note to clients sent Wednesday and cited USA Today. "Amazon and Google clearly are going to invest in projects that may not bear fruit for 5-10 years, if at all."
Speaking to the Times, Rubin said that time was a factor and was hoping to work with enough runway to fully realize the project in around ten years' time.
Of course, what exactly they do with their robots is still something to be discovered. Even if Google doesn't want to use new tools to tackle consumers directly, the sort of technology they're efforting presents itself with an array of opportunities.
"They aren't going for the consumer market," Gary McMurray, the associate director of industry at Georgia Tech's Institute for Robotics and Intelligent Machines, told ABC News. "They can use their robots for marketing, or they can go for something in manufacturing."
"Google is a very forward-thinking company," said McMurray. "I think [this initiative] fits in with what they're trying to do as a company."
Among the companies recently acquired by Google, according to the Times, are Schaft of Japan and Industrial Perception of the United States, who've recently dabbled in developing humanoid robots and a computer vision system with robotic arms, respectively. Google has also recently acquired robot makers Meka, Redwood and Bot & Dolly, as well as two design firms that specialize in high-tech products.
"The seven companies are capable of creating technologies needed to build a mobile, dexterous robot," Markoff wrote.
You can share this story on social media: