Google buys web-beaming solar drones capable of flying for years at a time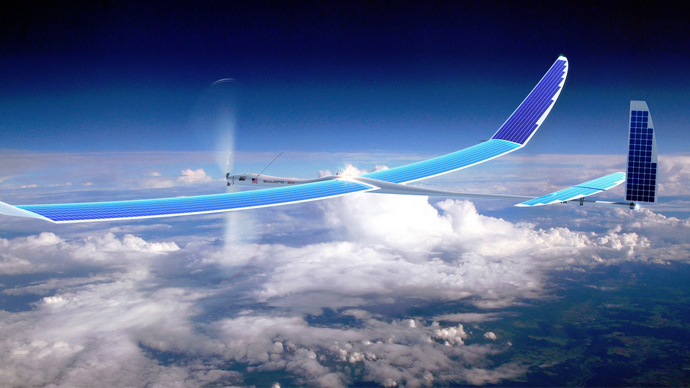 A Google spokesperson announced Monday that the tech giant has purchased Titan Aerospace, snatching the New Mexico-based drone developers from Facebook, which has long been rumored to be interested in such an acquisition deal.
Titan Aerospace began operation in 2012 and its team of approximately 20 employees will continue to function out of its Moriarty headquarters after the deal goes through. They have spent years developing an unmanned-aerial-system (UAS) that, unlike the military drones buzzing over nations throughout the world, have been designed with the reported aim of bringing unfettered internet access to remote areas of the globe.
The sale was first reported Monday by the Wall Street Journal, although the terms of the deal were not disclosed.
"Titan Aerospace and Google share a profound optimism about the potential for technology to improve the world," a Google spokesman told the Journal. "It is still early days, but atmospheric satellites could help bring internet access to millions of people, and help solve other problems, including disaster relief and environmental damage like deforestation."
Titan deploys thin, solar panel-covered aircraft that are able to convert sunlight into fuel. The two models under development, the Solara 50 and Solara 60, are capable of flying for five years at an altitude twice the height passenger airlines travel.
Google has suggested the drones will be used to collect images from high above the planet, aiding initiatives like Google Earth and Google Maps. The spokesperson also told reporters the Titan aircraft will work closely with Google's Project Loon, which is working to release high-altitude balloons that will broadcast Internet connectivity to closed-off areas of the world.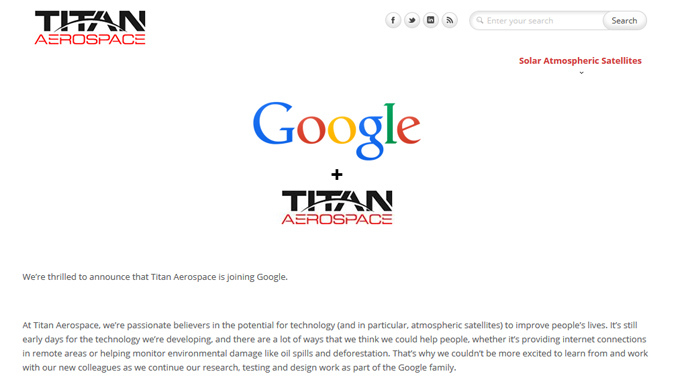 How close Titan truly is to accomplishing that goal is not exactly known, although the company has said it expects "initial commercial operations" by no later than 2015. They also claim the drones can deliver internet speeds at up to 1 gigabit per second. The average Internet speed in the US, comparatively, is 18.2 Mbps, a mere fraction of the rate Titan boasts.
The two models under development by Titan certainly appear to have the capability to reach remote areas of the world (they reportedly plan to begin by trying to reach desolate regions of Africa). The Solara 50 has a 164-foot wingspan, which is even larger than a Boeing 767 jet. Now that Google is in control of the company, the Journal reported, Titan could soon begin production on 11,000 models of the Solara 60, which is even larger than the Solara 50.
The technology has proven tantalizing enough for Google to likely spend tens of millions. Patrick Egan, a UAS expert and editor of the drone-focused sUAS News website, told the Journal the prospect of solar power does create issues.
"The problem with solar planes is that they are limited to smaller payloads, at night you are not collecting energy from the sun and it takes a lot of power to broadcast Internet signals," he said. "If they can get past the technical challenge, they could build proprietary networks offering Internet and wireless bandwidth that are worth billions and billions of dollars."
Previous reports indicated that Facebook, not Google, had expressed interest in acquiring Titan Aerospace. Facebook, one of the primary benefactors to the Internet.org plan to stretch affordable Internet to the world's estimated 5 billion people who are still cut off, was reportedly in the running for $60 million, leading those in the know to guess Google was willing to pay more.
Such a price tag may sound steep when so much about satellite-like drones remains unknown. However Dustin Sanders, Titan's chief electrical engineer, told CNN last year that tens of millions is a relatively small fee when the full breadth of possibilities are considered.
"If you have to go up to the satellites and rent that service, that's a lot of money," he said. "And launching a satellite, that can be in the billions of dollars. We're trying to do a single-million-dollar-per-aircraft platform. And the operation cost is almost nothing – you're paying some dude to watch the payload and make sure the aircraft doesn't do anything stupid."
It was obvious last month that Facebook's plan had changed when founder and CEO Mark Zuckerberg said that his company had spent under $20 million on a small firm called Ascenta, which will also develop high-altitude solar-powered drones that aim to increase global connectivity.
Yael Maguire, a director of engineering at Facebook, told the Daily Mail at the time that Facebook was so interested in Ascenta because of the way the company has prepared for the future.
"We're looking at a new type of plane architecture that flies at roughly 20,000m, because that's at a point where winds are at their lowest, it's above commercial airliners, it's even above the weather, and actually it can stay in the air for months at a time," Maguire said.
"These planes are solar-powered and they sit there and circle around, and have the ability to broadcast internet down."
You can share this story on social media: