Gitmo tribunal goes on despite Obama's vow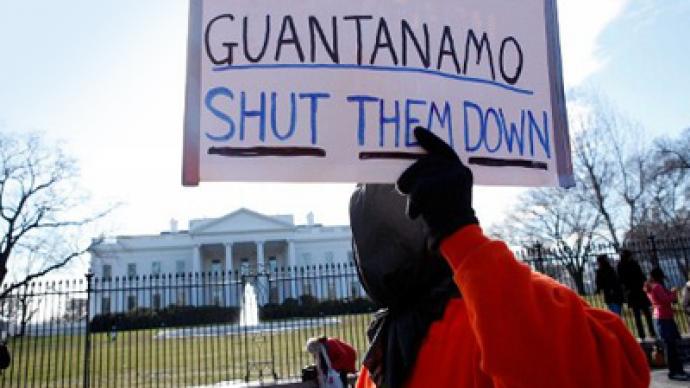 Five years after Abd al-Rahim al-Nashiri was first brought to Guantanamo Bay, the alleged bomber behind the attack on the USS Cole will go before a military tribunal today at the naval base.
While it's been nearly a decade since he was first detained by American officials, today's meeting before a judge also comes nearly three years after President Barack Obama vowed to shut-down the controversial US prison.Saudi-born al-Nashiri is suspected of being involved in the 2000 blast that killed more than a dozen American soldiers and injured 40 more. In the nine years since he's been under American custody, he has been subjected to both mock executions and waterboarding tortures and is only just now going before a military judge. According to his counsel, the near-decade of abuse should keep authorities from presiding over their client."By torturing Mr. al-Nashiri and subjecting him to cruel, inhuman and degrading treatment, the United States has forfeited its right to try him and certainly to kill him," his defense team writes in a legal motion made available to the press. "Through the infliction of physical and psychological abuse the government has essentially already killed a man it seized almost 10 years ago.""By torturing Mr Nashiri, the United States has lost all moral authority to try Mr Nashiri," civilian attorney Richard Kammen adds to the BBC. If convicted, al-Nashiri could be executed for his crime. Kammen adds that the truth behind the nine years of torture should be brought up in the case, though it will likely not be made relevant."What happened and how he was treated is important to a death penalty case, should we get to a death penalty case," he says.Also important is the fact that the trial is even occurring in the first place. Upon entering the White House, President Obama vowed to close the detention center at the start of his presidency. As he approaches the final year of what could be his only term, however, al-Nashiri's trial will go on at Gitmo and other are continued to be detained and subjected to torture.In January 2009, authorities at Gitmo were blocked from conducting military trials and a freeze was put on all cases. Earlier this year in March, however, President Obama announced that tribunals would continue, despite his pledging that he would shut down the base at the start of his administration.At the top-secret Camp Seven section of Gitmo, al-Nashiri is held with 14 other "high-value" detainees, including Khalid Sheikh Mohammed, who claims to have masterminded the September 11 terrorist attacks. Nashiri was first detained in 2002 after being captured in Dubai and was transported for four years among secret prisons by the CIA. In 2006, al-Nashiri was relocated to Guantanamo Bay, where he has been subjected to cruel and unusual punishment in the five years since.Across all of the Guantanamo Bay Naval Base, 171 prisoners are detained by Americans. In the years since it years since it has become known as a secret institution that uses egregious techniques n detainees, only six men have been convicted of war crimes.According to a report by the CIA Inspect General, al-Nashiri was waterboarded by authorities on at least two occasions and was threatened with a gun and a power drill. To the Agency, these were "enhanced interrogation techniques" they hoped would make the man come clean on other information about attacks against Americans. In the days before his trial, al-Nashiri's attorneys have asked authorities if their client will be released from the naval base should he be acquitted of charges. The government has refused to answer what the man's outcome will be pending a verdict, but under the 2001 Authorization for Use of Military Force, it has the power to keep al-Nashiri detained indefinitely. "Under the circumstances of this case, where it has been publically acknowledged that Mr. al Nashiri was tortured by the US government, a trial without any real possibility of reprieve is yet another form of torture," his lawyers wrote last month.
You can share this story on social media: