The 100 million dollar question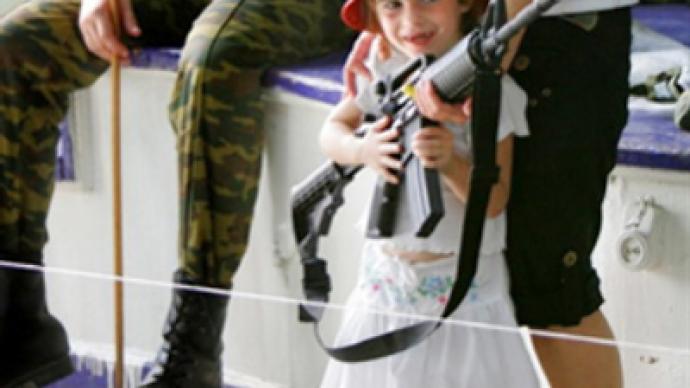 When Russia's military intelligence arm (GRU) released information that a private arms manufacturer will supply Georgia with more than $100 million worth of military funding, the news did not make waves in Tbilisi.
This is not because Georgians meet most news from Russia with hesitancy – rather it was because most of them went along their day as usual, attempting to make ends meet.
The report, which was confirmed by the Russian Chiefs of Staff, claims Barrington Alliance will supply Georgia with surface-to-air missile systems, such as Patriot-3 and Stingers, anti-armor missile systems, and a plethora of other arms.
While some say $100 million is too small a figure to spend on such a wide array of sophisticated weapons, there is one argument which is hard to overlook: Georgia's military spending is at 17% of the country's GDP. According to one Western think-tank, it is the largest percentage that any country spends on armament.
Even within Georgia itself, many have expressed rage at Saakashvili's determination to spend millions of dollars on arms, while completely ignoring many domestic problems. Former Prime Minister Zurab Noghaideli said it was infuriating that the Georgian Government chooses to spend twice as much on military as on education and health combined.
Also, consider this: pensions for the retired were raised for the third time this year – surely a welcome sign in any country. However, the raise was only by five lari – about $3 a month – bringing the total to 80 lari, which is approximately $48. Not exactly a reason for celebration.
Communal payments make it even less. Most people in the Georgian capital rely on gas for heating their homes in winter. That comes to around 4 lari ($2.40) a month. Electricity – six times as much (around 25 lari – $15). If you add all that together, you're left with roughly $12 dollars a month to get by.
There is also a study, conducted recently among 1200 Georgians, aged 15 to 47, by Georgian sociologists with the support of Estonian NGOs. According to its results, less than a quarter of respondents can afford to buy food and clothing. Thirty-four percent say revamping their wardrobe is out of the question, while 37% say even buying food is a problem.
A draft budget for 2010 sees a decrease in expenditures for almost all Ministries, but if Defense is looking at getting around $450 million next year, Culture and Sports ought to be content with $38 million. There is no increase planned for pensions or social allowances either.
The architecture of Tbilisi's Old Town, along with the entire downtown area, is breathtaking. However, for tourists hoping to see that beauty themselves, the advice is to hurry – it may not last for much longer. Most of the buildings are in catastrophic condition. They have not been renovated since the beginning of the 20th century, and look like they can crumble down very easily, especially if the earthquake-prone country is shook up again. Given a proper facelift, Tbilisi could easily give Rome or Toledo a run for their money, but Georgian officials are far more concerned with spending millions on weapons than on their country's own capital.
Officials in Tbilisi continue to stress the fact that they are not breaking any international laws or conventions by purchasing weapons or strengthening their army. It is all for the sake of defense, they say – a remark which is chiefly pointed at Russia.
At the same time, Moscow has repeatedly expressed its concern that Georgia's increasing military might could well be a sign of another impending attack on Abkhazia and South Ossetia. Both republics declared independence in 2008 following the Five-Day War with Georgia, which claimed hundreds of lives and displaced thousands more.
Russia has repeatedly called for an embargo on arms shipments to Georgia, but it fell on deaf ears. NATO countries, as well as Israel and Ukraine, supplied Georgia with weapons and training before the armed conflict with South Ossetia and Abkhazia. Even after the war they continue to do so which, according to Russian intelligence, could contribute to another war in the region.
Meanwhile, the situation around Georgia and its relations with Abkhazia and South Ossetia continue to throb and burn like a blister – one which Moscow fears could burst at any moment.
An eighth round of discussions of Security in the North Caucasus begins Thursday, November 12, in Geneva seeking to find a peaceful resolution to the issue. Georgia, Abkhazia, South Ossetia are among the participants, with representatives from the United States, UN, EU and OSCE also taking part.
As Russia's deputy Foreign Minister Grigoriy Karasin said in an article in Izvestiya newspaper, the Geneva talks do have a future – but only if all participants, especially Tbilisi, will search for a compromise to the solution.
Thus the $100 million question remains: is it really worth spending all that money on the military, and not on making the lives of ordinary Georgian citizens better?
Irina Galushko, RT, Tbilisi