Georgian soldiers become political asset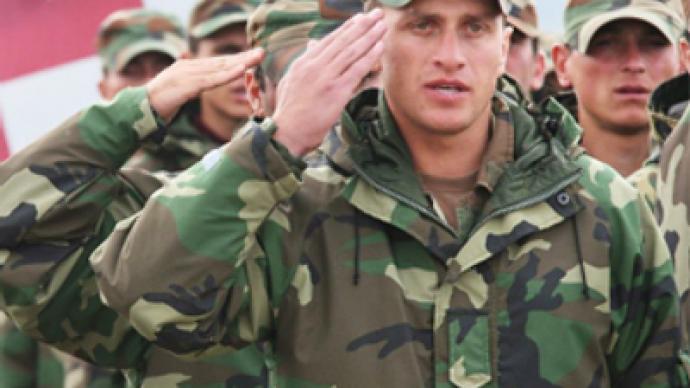 173 is a company. A company of the 23rd Battalion, 2nd Brigade of the Georgian army, that is. And they're off to join the thousands-strong crowd already fighting in Afghanistan.
The servicemen are flying out on Tuesday night to join the International Security Assistance Force (ISAF), and will be placed under French command upon their arrival.
At the Vaziani Military Base, the men were given a pep speech by Major General Devi Tchankotadze and a blessing from an orthodox priest. Although they leave to serve on what is perceived to be a fight for the wellbeing of the entire world, the soldiers are doing a favor, first of all, to their own country.
Nicka Chitadze, President of the International Security Research Centre in Tbilisi, admits the mission has its positive and negative aspects. He says the mission brings Georgia closer to NATO, of which membership is one of the main goals for the Georgian government. Also, according to Chitadze, troops will bring back with them a valuable luggage of having experience of fighting in extreme conditions. Which is also extremely important for the Georgian officials, who believe a military attack from Russia is still highly possible.
Yet even Nika Chitadze acknowledges the main drawback in sending Georgian troops to Afghanistan – that is, of course, a high possibility for soldiers being killed in combat. Georgia has already taken part in an international military mission – two thousand soldiers served in Iraq as part of the US-led coalition, withdrawing in 2008. However, in that case they were in the so-called Green Zones, which were considered to be moderately safe. In Afghanistan, though, the troops will have to enter combat against the Taliban, who employ some of the most skilled and ruthless militants.
Joint US-Georgia military training has just wrapped up after two weeks. But was that training enough to prepare the soldiers for what they're about to face?
Senior Lieutenant Zurab Kobaidze served in the Soviet Army, and fought in Afghanistan in 1988. In his words, physical wounds heal a lot faster than emotional. Kobaidze also recalled several instances of the Taliban's merciless treatment of Soviet soldiers, who were taken prisoner by them. A captured soldier would be tortured, then have his limbs amputated, and then, still alive, he would be left under the entrance to his military base.
This perspective, however, doesn't seem to stop the Georgian government from trying to achieve their long-term political targets. The Defense Ministry said the battalion, comprised of another 700 peacekeepers, would go to Afghanistan in February 2010 and serve together with the Americans.
Irina Galushko, RT, Tbilisi
Expert's opinion
To comment on Georgia's decision to send its peacekeepers to Afghanistan, RT turned to General-Colonel Leonid Ivashov, president of the Academy on Geopolitical Affairs and former Joint Chief of Staff of the Russian Armed Forces:
"Well, the Georgian authorities simply have to pay for what they get from Americans – salaries, credit, weapons, some other goods… Nobody needs their wine or fruit, so what can they offer in return? Their soldiers!
"We also know that Europeans, even their closest allies, Britons, don't want to fight there with Americans defending their interests! In most countries, participation in this campaign is a matter of winning or losing elections, because Europeans simply don't see any reason for them to be in Afghanistan. It's very simple nowadays – the more you depend on the States, the more you have to take part in such operations and send your own soldiers to death. But it's obvious that such countries as Georgia or Poland are very dependant on the US, so they're forced to do it.
"Of course, Saakashvili has his own interests as well. As you remember, those Georgians who served in Iraq were then used against South Ossetia. In this case, he also hopes to train his troops for further provocations against Russia, Abkhazia and South Ossetia.
"I do understand that, practically speaking, such policy may be profitable for Georgia in some respects, but the question is whether they want to stay Georgians as a nation or become afro-Americans. It's basically a choice between their national identity and bananas with Pepsi-cola – do they need such a bargain?!
"It's also obvious, that Europe as a whole doesn't need Georgia. There is a great divide between the weaker, pro-American Europe, those who depend on the USA – and anti-American western European countries. The latter don't want more American influence in the continent, so they're against this trend, since they understand that both Ukraine with Yushchenko and Georgia with Saakashvili – they are now and further on will be pro-American.
"However, despite the fact that official polls say most Georgians are for NATO, I believe most people would like to be friends with Russia and to cooperate with us."
You can share this story on social media: