Genetically modified 'frankenfish' to appear in US stores
Published time: 21 Dec, 2012 20:44
Edited time: 26 Dec, 2012 16:41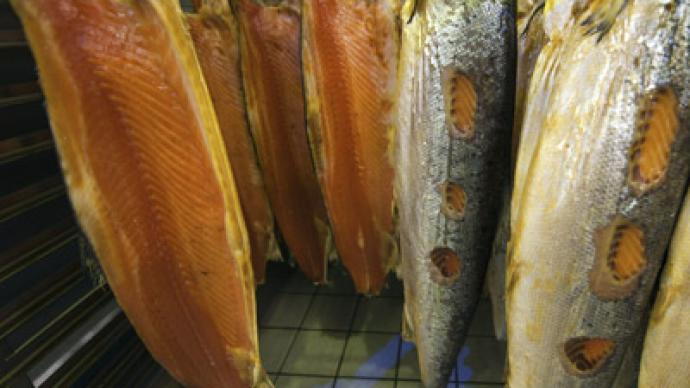 Regulators with the FDA have released a preliminary report that suggests they will soon give the go-ahead to a team of scientists who've created a sci-fi "frankenfish."
On Friday, the US Food and Drug Administration released an environmental assessment report regarding a salmon-hybrid developed in the laboratories of AquaBounty. The FDA must wait two months before they make final their decision regarding the fate of the frankenfish, but through their study they have determined that the genetically engineered animal, the "AquAdvantage," is safe enough to be sold.
The fish, a hybrid of the Pacific Chinook salmon and a ray-finned creature called the eelpout, is engineered to grow twice as fast as traditional salmon. Once the frankenfish is approved for good, AquaBounty will be able to offer meatier fish able to feed more people.
"In all other respects," the company says the AquAdvantage fish is "identical to other Atlantic salmon."
The AquAdvantage "will not have any significant impacts on the quality of the human environment of the United States," the FDA wrote, noting additionally that the fish is unlikely to harm populations of natural salmon.
The FDA has 60 days to hear remarks from the public before it makes its final decision. At this point, though, experts weighing in with the Associated Press say the report suggests an approval is all but certain. From there, AquaBounty is likely to release what will be the first genetically engineered animal ever determined safe for human consumption. With no other such animal ever approved in the past, though, concerns have been plentiful over what consequences the creature could spawn.
Bill Freese, a science policy analyst with the Center for Food Safety, told Women's Health Magazine recently that while the FDA obviously has regulations the fish will have to pass, that process is "totally unlike" how the FDA goes about approving drugs.
According to Freese, "a very lax regulatory system" could lead to dire results.
"This is a radical new technology. We need very good, careful, close regulation, and we just don't have that. We can't be assured of the safety of any of these genetically engineered organisms," he said.
Developing the frankenfish has so far cost AquaBounty nearly two decades of research and tens of millions of dollars. Only weeks ago, though, the very fate of the fish was put at risk.
While awaiting news from the FDA in early December, AquaBounty CEO Ron Stotish told the Associated Press that length delays had nearly drained the company from all their money.
"It's threatening our very survival," Stotish told the AP. "We only have enough money to survive until January 2013, so we have to raise more. But the unexplained delay has made raising money very difficult."
In 2010, the FDA concluded that the AquaAdvantage fish was just as safe as traditional salmon to eat. Only now, however, has it been finally able to release its environmental assessment report, one of the final steps before AquaBounty can be given the green light.