​Consumers may be barred from suing General Mills for 'liking' company on Facebook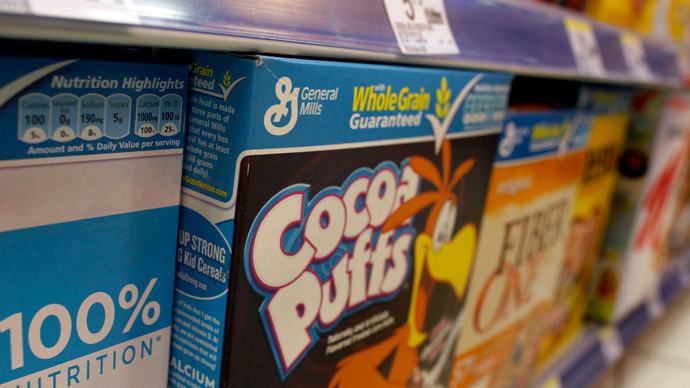 Under a new privacy policy, Fortune 500 corporation General Mills claims that anyone who has received anything from it that can be deemed a benefit – even agreeing to "like" it on Facebook – withdraws rights to sue the company.
General Mills, maker of products like Cheerios and brands like Betty Crocker, has added language on its website that warns consumers that if they download company coupons, enter a company contest, or interact with the company in other ways, they will only be able to resolve disputes through informal negotiation with the corporation, or by binding arbitration.
The new terms even hint that simply purchasing General Mills products will bind consumers.
"We've updated our Privacy Policy," the company wrote on the homepage of its website. "Please note we also have new Legal Terms which require all disputes related to the purchase or use of any General Mills product or service to be resolved through binding arbitration."
General Mills changed its terms after a judge declined in March to dismiss a case in which two mothers claimed the company deceptively marketed its Nature Valley products as "natural" when, in fact, they included high-fructose corn syrup and genetically-modified ingredients.
The "forced arbitration" terms are unique for major food companies, The New York Times reported.
"Although this is the first case I've seen of a food company moving in this direction, others will follow — why wouldn't you?" said Julia Duncan, director of federal programs at the American Association for Justice. "It's essentially trying to protect the company from all accountability, even when it lies, or say, an employee deliberately adds broken glass to a product."
Companies have pushed to expand protections against litigation, but the likelihood of moves like General Mills' "forced arbitration" ramped up after a 2011 US Supreme Court decision – AT&T Mobility v. Concepcion – that allowed businesses to prevent consumers from banding together to make fraudulent claims in a single arbitration.
Companies can now avoid class-action lawsuits with the "use of a standard-form contract requiring that disputes be resolved through the informal mechanism of one-on-one arbitration," according to the Times.
General Mills responded by attempting to downplay the magnitude of its new policy.
"While it rarely happens, arbitration is an efficient way to resolve disputes – and many companies take a similar approach," General Mills said in a statement. "We even cover the cost of arbitration in most cases. So this is just a policy update, and we've tried to communicate it in a clear and visible way."
Yet, what if a product is mislabeled, falsely claiming it does not contain nuts and one with a nut allergy eats the product?
"When you're talking about food, you're also talking about things that can kill people," Scott L. Nelson, a lawyer at non-profit advocacy group Public Citizen, told the Times.
"There is a huge difference in the stakes, between the benefit you're getting from this supposed contract you're entering into by, say, using the company's website to download a coupon, and the rights they're saying you're giving up. That makes this agreement a lot broader than others out there."
Last year, General Mills shelled out $8.5 million to settle lawsuits regarding health claims made on its Yoplait Yoplus yogurt product. In 2012, it settled a suit by agreeing to remove "strawberry" from the packaging of its Strawberry Fruit Roll-Ups, as the product does not contain strawberries.
Arbitration experts say that, amid a legal challenge, the court system will likely require General Mills to prove a customer was cognizant of its arbitration policy before siding with the company. But the policy is mapped out so broadly that, lawyers told the Times, it is difficult to know how courts will interpret it.
Nelson doubted a court would agree to back the company's policy only if a customer simply visited the company's website, "but we really don't know."