Woman faces jail time for vegetable garden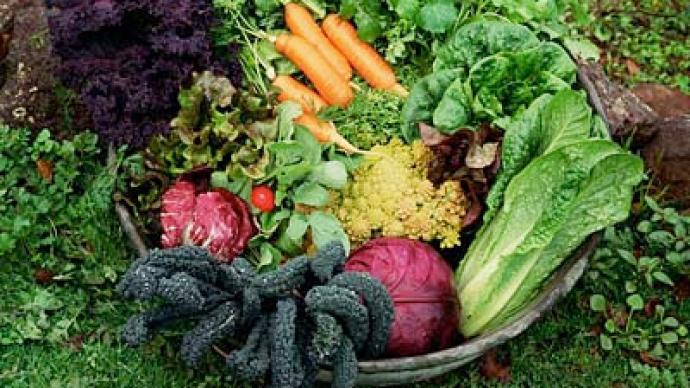 Julie, Julie, how does your garden grow? Ask around Julie Bass' Oak Park, Michigan neighborhood and you'll hear an array of opinions. Some love it, some hate it and some don't care.
The city's government, however, completely detests her organic vegetable garden. Now the city is considering putting her behind bars if she doesn't ditch her veggie patch.Bass has been charged with a misdemeanor for violating a city code that says yards must have "suitable, live, plant material." "It's definitely live. It's definitely plant. It's definitely material. We think it's suitable," she tells station WJBK.Oak Park City Planner Kevin Rulkowski isn't happy with it though and says to the station that the site is "not what we want to see in a front yard." If Bass continues to ignore the town's tickets and citations, she could be looking at jail time.Bass says she began the garden, which contains five planter boxes of basil, cabbage, carrots and more, when the price of organic food just became too high. She said that a front-yawd garden, rather than a back yard one, would be, well, "really cool.""The kids love it. The kids from the neighborhood all come and help."Some neighbors are turned off, however, by the grotesque site of hideous, thriving plantlife in front of their very own eyes. "They say, 'Why should you grow things in the front?'" says Bass. "Well, why shouldn't I? They're fine. They're pretty. They're well maintained."Oak Park's government — and a few picky neighbors whose parents clearly never taught them the importance of eating their veggies when they were younger — says it has to go, though."I know there's a back yard. Do it in the back yard," one neighbor tells the station."They don't have (anything) else to do (if) they're going to take her to court for a garden," said neighbor Ora Goodwin.Rulkowski says, "If you look at the definition of what suitable is in Webster's dictionary, it will say common. So, if you look around and you look in any other community, what's common to a front yard is a nice, grass yard with beautiful trees and bushes and flowers." But a growing, nurtured bevy of beds of budding produce? That's just bizarre.How bizarre? If Bass doesn't move her bushes to the back, she stands to spend up to 93 days in jail.