Gaddafi's son toured America as guest of US government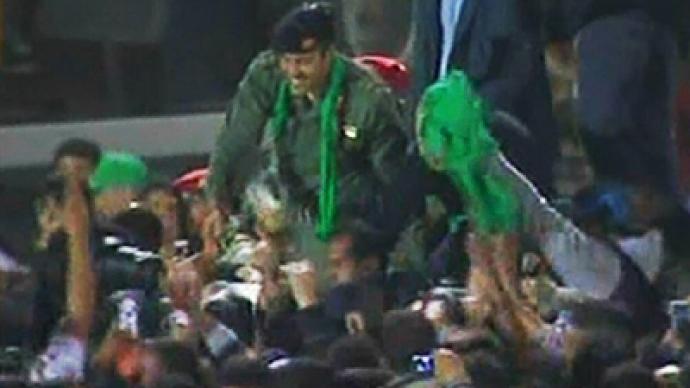 As the nation of Libya begun to fall into revolution, one of Gaddafi's sons was on a US State Department approved month long tour of America.
Khamis Gaddafi, 27, came for his month long American adventure as part of an internship with AECOM, a global infrastructure company based in the US with business ties in Libya. Recent reports indicated Khamis has been killed in Libya by a disaffected military pilot. But new video of him aired on Libyan state TV showed alleged live footage of Gaddafi's son greeting government supporters in Tripoli.The revelation of Khamis was in the US on a government approved tour became public just moments after US President Barack Obama defended his decision to lead coalition forces into war with Libya. The incident is highly embarrassing for the Obama administration.According to AECOM, the US State Department approved Khamis' trip because he was apparently considered a reformer. State even offered the company advice on the trip's itinerary and on working with the Gaddafis.Not all details of the trip are available, but Khamis is believed to have met with and visited high-profile companies and American military institutions across the country from Houston to Los Angeles, San Francisco, Chicago, Washington, New York and more – including a visit to the United States Air Force Academy in Colorado. In addition, he received a VIP tour of Universal Studies theme park and visited the Google, Apple, and Intel campuses and was jet set to Chicago for an executive tour of Northwestern University's Kellogg School of Management.According to documents obtained by ABC News Khamis then met with defense contractors from Northrop Grumman and Lockheed Martin, speaking with both US military and civilian officials. He later was given the Wall Street treatment with a visit to the New York Stock Exchange. As protests grew more intense in Libya, he returned home, forgoing visits to Columbia University, the West Point Military Academy. State Department officials have denied any role in planning, advising or funding the trip. However, they still gave him a warm welcome."We did greet him at the airport. That is standard courtesy for the son of the leader of a country," State Department spokesman Mark Toner said.
You can share this story on social media: