Hardcore security: US prepared to battle protesters at G8 and NATO summits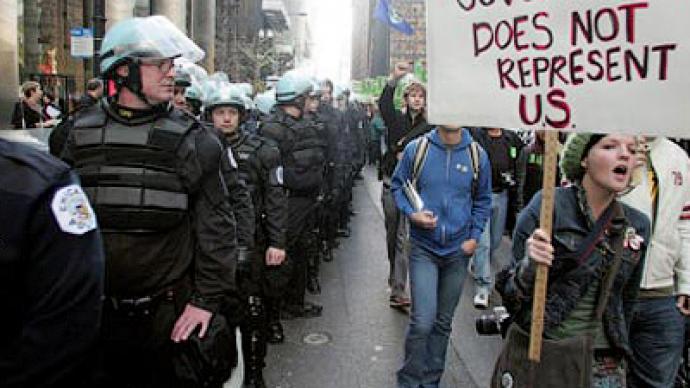 There is no such thing as too much security when it comes to a G8 or NATO summit. And the host of both is doing so much to protect VIP guests that it seems the US is preparing for an internal war against troublesome protesters.
The G8 summit was initially scheduled to be held in Chicago, but over some serious security concerns it was moved to Camp David, the presidential compound which is about as secure as it can possibly get in the US. The summit of the world leaders was supposed to be followed by a separate NATO meeting also in Chicago, with both events hosted by President Barack Obama. And it will be.Such events always attract mass protests that often escalate into violence so the heavy security is in place to keep the protesters away from both summits. Although it is obvious that the security at the G8 will be much greater, the authorities have also prepared a couple of surprises for Chicago protesters.
G8 summit at Camp David
After it became known that that the G8 would be held at Camp David, the Secret Service ordered a complete shutdown of Cunningham Falls State Park and Cotoctin Mountain Park for the time of the event, effectively sealing-off all routes of approach to Camp David. Earlier this year, Congress did its bit by making it a federal crime to trespass the sites closed by the Secret Service for official events. The site is not approachable from above either. The FAA has temporarily restricted all flights within a 55 kilometer radius around Camp David, while the standard zone for when the US president is visiting the facility is only about 18 kilometers. NORAD pilots were instructed to follow the violators, divert their aircraft out of the area, bring them to land and turn the pilots over to the law enforcement agencies. As a last resort, NORAD's chief of media John Cornelio does not rule out the possibility of intercepting and shooting down suspicious aircraft.International media are restricted from entering Camp David and only journalists accompanying the G8 leaders will be given access to the presidential premises. The press is contained in the international media center located at Camp Round Meadow a couple kilometers to the west of the facility. Camp David, as a militarized facility, provides a high level of natural security. Little is known about its current security system. Nevertheless it is quite obvious that it at least includes razor-wire fences with all kinds of security sensors and cameras, watchtowers and round-the-clock patrols by marines and attack dogs.Protests are being staged in several towns neighboring Camp David. The Occupy Baltimore group is planning a "legal, non-violent vigil on public sidewalks in Thurmont." The Occupy Frederick group is staging a two-day-long program of protest activities in downtown Frederick, some 24 kilometers to the South of Camp David.However, with such a secured perimeter around Camp David, it is highly unlikely that any of the protests will reach the facility.
NATO summit in Chicago
Ensuring security for the NATO summit in Chicago represents a much greater challenge than in the model isolated facility of Camp David, somewhat ideal for top-level meetings.As a harsh security measure, local law enforcement agencies are considering the possibility of shutting down all cell phone services during the summit weekend, latest reports suggest. Cell phone jammers have already been put to the test during President Obama's inauguration, due to a fear of a cell phone -triggered bombing. However, in the case of Chicago it is much more likely that the cell services will be shut in order to prevent protesters from coordinating their movements through social networks.
Tens of thousands of demonstrators are expected to flood the city streets, and police did their best to prepare for the action. Thought the protests are anticipated to be peaceful, Chicago's law enforcement agencies have invested over $1 million in riot-control equipment, including at least one long-range acoustic device (LRAD), and upgrades to shields that will be worn by the police.In dealing with protests and rallies on the ground, police rely heavily on bike patrols – very viable tactical units that can be deployed quickly. Bike patrols are very effective in crowd control as they can move through the columns of protesters.Meanwhile, the Coast Guard has deployed additional boats to patrol the Lake Michigan and the Chicago River.Among the other security precautions that have taken place in Chicago, the Red Cross has prepared to take measures to handle an emergency situation of enormous proportions, comparable to a tornado or tsunami. A number of shelters have been set on standby in the event of a complete evacuation of the Windy City.
You can share this story on social media: