Fracking forces eviction of entire Pennsylvania trailer park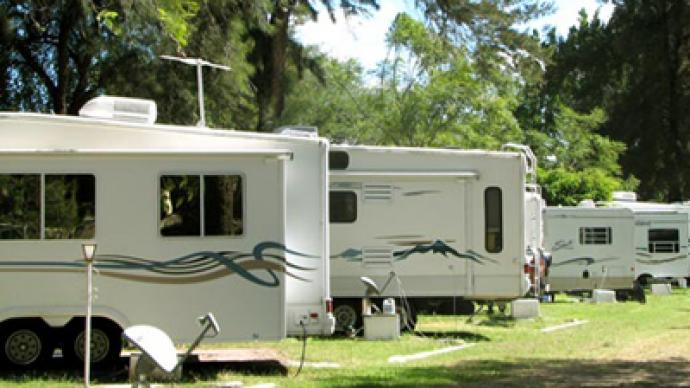 An entire community in central Pennsylvania is being ordered to find new homes after a fracking operation has forced dozens of low-income earning residents to try to relocate from a local trailer park.
Nearly three-dozen families lived in Jersey Shore, PA's Riverdale Mobile Home Park earlier this year, but all of that quickly changed. The owners of the 12-acre plot of land sold the property to Aqua America and Penn Virginia Resource Partners, who plan to soon start hydraulic fracturing — or fracking — where some trailers still stand today.
"Now I feel like an absolute refugee," Eric Daniels, 43, tells PublicSource.org. He has invested more than $12,000 into a mobile home in Riverdale in only three short years, but the recent land transfer has forced him to flee the community. He tells reporters that it would have cost him $7,300 to relocate his home to another community where his monthly rent would be $325 more than what he pays today.
Daniels has canceled his family life insurance and is now behind in other payments, all so that his former front yard could become the site of a controversial drilling procedure that has scientists and activists alike scratching their heads.
In the last few years, countless energy companies have invested in fracking, a process that involves pumping chemicals deep into the Earth to procure natural gas. Researchers have revealed that some of the chemicals used in the process are known cancer-causing agents, though, and others insist that increased hydraulic fracturing has led to a direct increase in seismic activity.
Despite not much being known about the long-term effects of fracking, the practice is becoming more and more commonplace across the country. Also on the rise, of course, are concerns from citizens like Daniels who are being displaced from their homes.
PublicSource reports that residents of Riverdale Mobile Home Park outside of Williamsport, PA only became informed that they'd be losing their homes this past February. They say that they were not asked for insight or opinion into the deal and were left in the dark until the land owners sold the property on February 23 for $550,000. Aqua America then issued eviction notices offering as much as $2,500 in incentives for residents ready to move out quickly, calling that decision "out of concern, out of compassion and out of understanding."
The Center for Media and Democracy reports, however, that on June 12, residents were told by Aqua America that forced evictions would begin the next day and anyone who refused to leave was subject to arrest. Last month both police and private security forced raided a protest waged by anti-fracking activists, Democracy Now! reports.
With the bulk of Riverdale's residents working low-wage jobs, relocating at a cost of as much as $10,000 up front wasn't something many of them could do.Deb Eck, 50, tells the website that it was near impossible to find a way to move her 76-foot long trailer — and her two 10-year-old twin daughters — and that of the few options she could afford, one new park was affordable but also rampant with registered sex offenders.
"The company is taking advantage of economically vulnerable people … This would not have happened in a middle class neighborhood," Bloomsburg University of Pennsylvania Professor Wendy Lynee Lee tells the CMD. "This is just the beginning. It was an example of real engagement of the activist community protecting those, and working with those, who are affected. The anti-fracking movement is continually growing stronger."
Even so, it is also a beginning for the former residents of 32 Riverdale mobile homes who have mostly opted for a small incentive to start anew.
You can share this story on social media: