Fox News hits a new low - this time with cleavage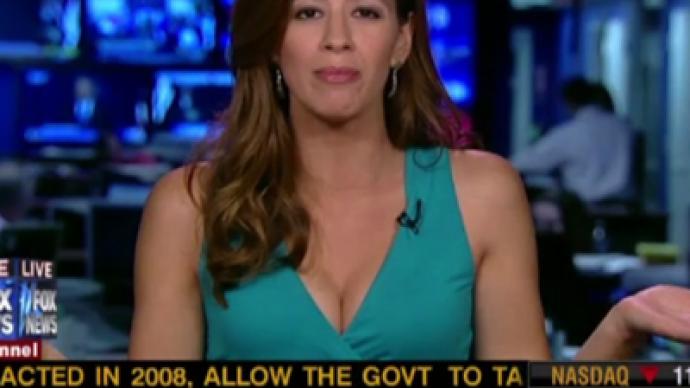 Fox News host Neil Cavuto spent a portion of Wednesday afternoon talking live on the air with journalist Michelle Fields of The Daily Caller. And if you ask around, you will not — I repeat, not — be able to figure out what the hell they said.
In-between bouts of ignoring US President Barack Obama's groundbreaking same-sex endorsement and taking jabs at the commander-in-chief for doing as much, producers at Fox brought in Fields to, well, discuss…something? A day later, it seems that the only thing much of the audience can recall about the unusual performance is that Fields wore a blue dress. And her breasts looked awesome.This, of course, is not exactly anything new for Fox. Low décolleté and a miniskirt leaving not thatmuch to the imagination is regular business attire for Fox News' female pundits. In recent years, media mogul Rupert Murdoch has taken the British tabloid style of, for lack of a better word, news, and introduced it to his American entities under his own News Corporation umbrella. And although the latest escapades aren't groundbreaking for either Fox or Fields, it does exemplify that the rebranding of their business model as one that relies on reestablishing the term "boob tube" as something synonymous with television.
In this latest case, however, Fox seems to hit a new low — in terms of both broadcasting standards and necklines alike. But is it surprising? Network's male hosts become older, and female pundits have to go further and further to catch their attention. So, voila! Thanks to Michelle Fields, "blue dress" now might become a code word not only for oral pleasures at the Oval Office, but for soft porn pleasures of Fox News' male viewers.Fox's audience is composed mainly of middle aged men — and it's not surprising that many of them watch the channel on mute. Who cares what that girl is talking about as long as she wears that blue dress? What's also not surprising, though, is how much and what kind of information Fox's viewers receive. According to a poll published by Fairleigh Dickinson University, people who get their information from Fox News know significantly less about news both in the US and the world than people who watch no news at all.Sex sells and the US is buying. In the process, however, consumers of this corporate-owned crap are getting much more than they bargained for — and no, not what's under Fields' dress either. It's the dumbing down of news for absent-minded Americans and it is being swallowed up by swarms of viewers who are only interested in one thing.
You can share this story on social media: