Florida state trooper fired after speeding lawmaker complains of lowball citation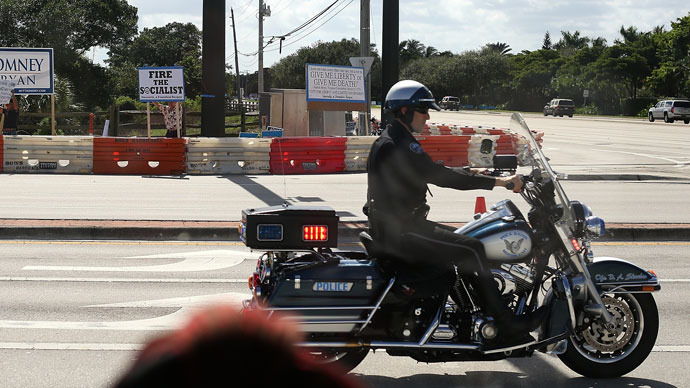 A Florida state trooper was fired for "being nice" by cutting a speeding state legislator's fine from $250 to $10. The trooper is appealing the decision, saying it is a standing policy not to ticket lawmakers who set the patrol's budget.
Trooper Charles Swindle, a six-year veteran of the Florida Highway Patrol, said he was cutting Rep. Charles McBurney "a break" by falsely giving him a $10 dollar ticket for not having proof of car insurance instead of a $250 ticket for speeding.

Mcburney had reportedly been clocked going 87 in a 70 mph zone last November, and was given the $10 ticket without being asked to show proof of insurance.

"I'm cutting you a break on this one," Swindle told the lawmaker, The Miami Herald cites an internal report as saying.

Swindle checked with his superior, Sgt. Gary Dawson, who approved and said: "We ain't gettin' no pay raises anyways."

The report also quotes Swindle as telling the sergeant: "I'm going to write (McBurney) a warning and be nice; I'm going to stroke him 'cause I didn't see his insurance card. I'll give him that ticket, warning for speed."

McBurney, who denies he was ever speeding, later complained to Colonel David Brierton of the Florida Highway Patrol that Swindle had falsely cited him.

Brierton ordered the investigation which resulted in Swindle's dismissal. Dawson is on leave and informed his superiors he plans to retire.

McBurney, whose car was marked with a special tag that identified him as a legislator, was adamant that he did not want special treatment.

"I didn't think that what he did was proper," McBurney said. "I didn't think that was the way he should have acted towards me, or anyone else for that matter. I felt obligated to write the letter. My concern was, if he did that to me, he would do that to anybody."

Earlier this week, Swindle announced he is appealing his March 15 firing, saying the state highway patrol has an unwritten policy of not fining lawmakers who set the patrol's budget, a claim which the agency strongly denies.

"That's horse hockey," The Tampa Bay Times cites Julie Jones, executive director of the Highway Patrol's parent agency, the Department of Highway Safety and Motor Vehicles, as saying.  

"There is no policy that says we give anybody a free pass because they're elected officials. The agency is compiling records to show nearly a dozen lawmakers have been cited for speeding or other moving violations in recent months."

But Swindle's lawyer, Sidney Matthew, said the situation "stinks."

"Florida Highway Patrol can't have it both ways, with a policy of discretion to cut breaks to legislators who are speeding and then turn around and fire them."

Incidentally, McBurne was not the only lawmaker Swindle pulled over that day. The trooper also stopped Rep. Mike Clelland who was coincidentally going 87 mph in a 70 mph zone.

Swindle similarly let Clelland off the hook with two citations, one for having no proof of insurance and the other for not having car registration.

He said he was cutting Clelland a break, "from one firefighter to another," after noticing the senator had a firefighter sticker on his windshield.

"I didn't ask him to give me any break," Clelland said. "I remember him saying, 'You're the second legislator I've pulled over today.'"

You can share this story on social media: