Florida cops use Taser on man for jaywalking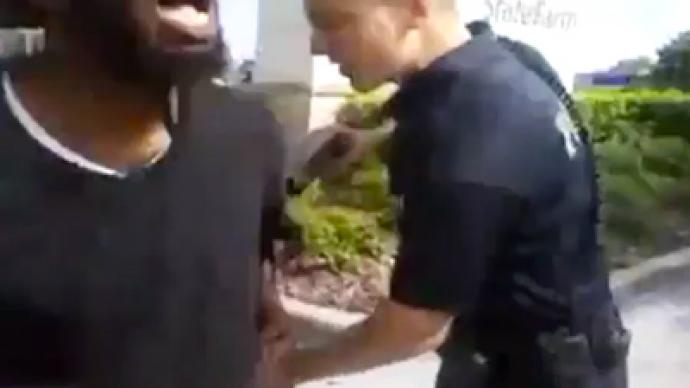 A lot of people will say that jaywalking shouldn't be an arrestable offense — and neither should refusing to produce an ID for the police. But does either charge warrant being repeatedly fired at with a Taser? Cops in Florida say so.
Zikomo Peurifoy, 25, was Tased three times, handcuffed and arrested by police officers in Casselberry, Florida recently after he refused to provide law enforcement with photo identification after allegedly jaywalking across the street. The entire incident — at around ten minutes long — has been published on the Web. And while critics are charging that Casselberry cops used excessive force in apprehending a single suspect over not crossing at the corner, the city's police department is insisting that their officers handled the situation entirely by the books."The officers were polite the whole time through and gave good verbal commands," Casselberry Police Captain David Del Rosso told reporters, the Daily Mail writes. "You hear the officer saying why he stopped him."While that might be so, the question of what warrants stopping someone — and demanding identification — has some critics calling the officers' recorded statements yet further proof of the escalation of America into a police state.When first told to produce ID, Peurifoy is filmed telling the police that their request was not a "lawful order" and demanded he be provided with a statute that proves otherwise. From there the video does not seem to show any of the arresting officers introducing a charge against Peurifoy — aside from jaywalking — but repeatedly requesting ID. As he refuses to comply, he announces, "I am not resisting arrest" and tells the officers that they are committing assault by forcibly placing their hands on him without reason.Only after being struck with a Taser three times is Peurifoy finally apprehended, to which the video shows him screaming, "This is assault."The Daily Mail reports that Peurifoy was ticketed for jaywalking and charged with resisting arrest and battery on a law enforcement officer. Despite the victim's claims that he was in the right, Captain Del Roso tells reporters that he is so impressed with how the force handled the situation that he is considering using it as a training video for new recruits. "They followed procedure. They followed the law," police spokeswoman Sara Brady adds to the Orland Sentinel. Noelle Price, the female friend of Peurifoy that recorded the entire incident, was arrested as well. Despite officers reporting that she was illegally carrying a firearm — and three other weapons — she was not charged. She was, however, initially cited with resisting an officer without violence because she did not identify herself by her full name when asked by officers.
You can share this story on social media: