FISA spy bill could be renewed without discussion
Published time: 19 Dec, 2012 19:07
Edited time: 19 Dec, 2012 23:07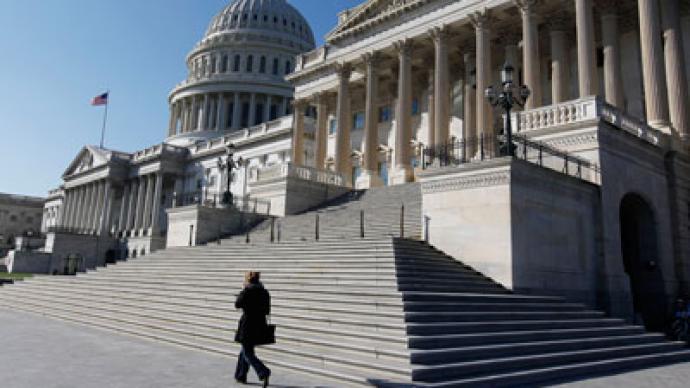 A Republican lawmaker is urging his colleagues in the Senate to approve without debate a bill that reaffirms the government's power to place warrantless wiretaps on US citizens.
Sen. Saxby Chambliss (R-Georgia) asked his fellow lawmakers on Capitol Hill this week to quickly reauthorize the Foreign Intelligence Surveillance Act (FISA) before the end of the year. Should Congress fail to renew FISA by December 31, the amendments that were added to the bill in 2008 will expire and with it will be hindered the government's ability to monitor the emails and phone calls of US citizens.
Under the FISA Amendment Act of 2008 (FAA), the government can eavesdrop on any online or over-the-phone communication, even of US citizens, as long as at least one party is reasonably believed to be residing outside of the United States. If that wasn't evasive enough, though, the National Security Agency (NSA) has refused to answer questions from members of the country's own intelligence community about how the act is applied.
Earlier this year, Senators Ron Wyden (D-Oregon) and Mark Udall (D-Colorado) were told by the NSA that the agency would be unwilling to fulfill their request for information on how many Americans have been targeted under the FAA.
"All that Senator Udall and I are asking for is a ballpark estimate of how many Americans have been monitored under this law, and it is disappointing that the Inspectors General cannot provide it," Sen. Wyden told Wired's Danger Room back in June. "If no one will even estimate how many Americans have had their communications collected under this law then it is all the more important that Congress act to close the 'back door searches' loophole, to keep the government from searching for Americans' phone calls and emails without a warrant."
Despite warnings from Sen. Wyden and others, though, the House of Representatives approved a renewal of FISA in September. Since then, the Senate has been tasked with reassessing the bill and determining if an extension should be granted to keep both FISA and its 2008 amendments on the books for another five years. With only days left before the bill expires, though, a solid discussion on the FAA seems unlikely to occur in Washington.
On Tuesday, December 18, Senate Majority Leader Harry Reid (D-Nevada) asked his peers to push forward with FISA debates so that the matter of renewing or not the FAA can occur before the new year.
"FISA, this is an important piece of legislation as imperfect as it is, it is necessary to protect us from the evil in this world," Sen. Reid said, according to The Hill. "We need to finish this by the end of the week."
Sen. Reid's call to act was rejected by Sen. Chambliss, though, who claimed that FISA is in fact so important that it should be renewed without any consideration.
The Hill reports:
"Reid wanted S. 3276 to be considered with a limited number of amendments, but Sen. Saxby Chambliss (R-Ga.) objected and said he didn't understand why the Senate couldn't just pass the House FISA bill. He referred to a letter stating that the Obama administration supports the House-version."
According to The Hill, Sen. Reid responded by reminding the floor that renewing FISA could have implications that are worth reassessing before a vote is held without debate.
"I will continue to work on a path forward," Reid said. "But Christmas is not more important than this legislation. I hope I'm not offending anyone, but it isn't."
Days earlier, US News & World Report quoted Sen. Jeff Merkley (D-Oregon) as saying, "Citizens generally assume our government is not spying on them," but, "If they had any inkling of how this system really works, the details of which I cannot discuss, they would be profoundly appalled."
During House debates in September, Rep. Dennis Kucinich (D-Ohio) had harsh words for FISA, saying, "Everyone becomes suspect when big brother is listening."
"We've been told that we can't even tell how many people are being subjected to this process located in the United States, and that we don't know and they can't tell us," Rep. John Conyers (D-Michigan ) pleaded earlier in the year in response to FISA talks. "I think we can get a little bit closer. There can be some reasonableness. It's this kind of vagueness that creates in those of us in the Congress, suspicions that are negative rather than suspicions that are positive."
"Why can't we know how many people are affected by FISA amendment act in the US?" Rep Conyers asked. "This kind of vagueness creates suspicions."
On Wednesday, Trevor Timm of the Electronic Frontier Foundation published a blog post asking concerned Americans to contact their representatives to demand a discussion be held in Washington before the Senate rushed to reauthorize FISA.
"Senate leaders, Democrat Harry Reid and Republican Mitch McConnell, owe the American public a debate about this law, including how many Americans have been scooped up in it, how many times it has been used in non-terrorism investigations and how much it has cost the American taxpayers," Timm wrote.
Previously, the EFF condoned FISA and the FAA because, in their words, it gives the NSA "expansive power to spy on Americans' international email and telephone calls."
Rep. Lamar Smith (R-Texas), the sponsor of the FAA renewal, has claimed "Foreign nations continue to spy on America to plot cyber-attacks and attempt to steal sensitive information from our military and private sector industries," and that Congress has "a solemn responsibility to ensure that the intelligence community can gather the information" necessary to hinder these attempts.
Earlier this year, Obama-appointed Attorney General Eric Holder defended the act, saying FISA "ensures that the government has the flexibility and agility it needs to identify and to respond to terrorist and other foreign threats to our security."