Fifth US warship deployed to Syria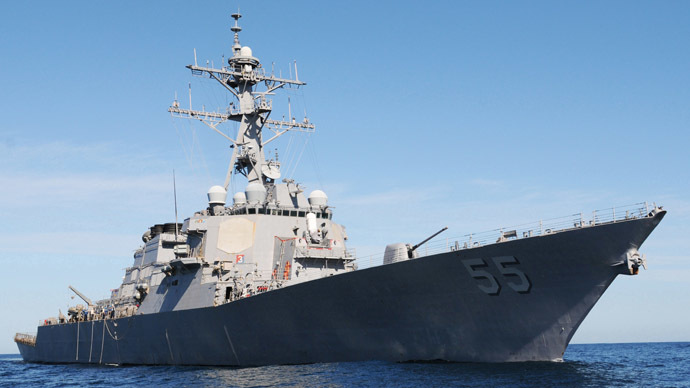 The United States is sending a fifth warship towards Syria, defense officials said Thursday, upping the ante as a showdown between the US and President Bashar al-Assad's regime remains all but declared.
A 505-foot-long guided missile destroyer, the USS Stout, has been sent to the Mediterranean Sea to assist the four US warships already deployed to await potential orders to strike Syria amid an international investigation into Assad's reported use of chemical weapons to gas innocent civilians outside of Damascus last week.
Should the White House ask for an assault on Assad's regime, the USS Stout and the rest of the seafaring fleet will join an arsenal of US, UK and French warheads already surrounding Syria in every which direction.
The Stout left its home port in Norfolk, Virginia more than a week ago with hundreds of soldiers on board en route to the Mediterranean. In the days since, however, Obama administration officials have suggested that the president has not taken the possibility of ordering a military strike against Syria off the table. Now should an assault be ordered from Washington, the US will have one more option at its disposal with regards to striking from the sea.
Norfolk's WAVY News reported Thursday morning that the Stout was already on patrol in the eastern Mediterranean, but is now heading east to relieve one of the ships stationed within striking distance of Syria.
According to Sky News, a US defense official said the ship will replace the USS Mahan, but noted that both vessels may remain in place for the time being.
In an official Navy document, the Stout is said to be "equipped with the world's most sophisticated weapon system,"
The Stout, said the Pentagon paper, "can guide vertically-launched standard missiles to intercept hostile aircraft and missiles at extended ranges." It's equipped to fire anti-ship cruise missiles as far away as 65 nautical miles and can perform a sea-to-land attack with deadly Tomahawk missiles.
Meanwhile, Pres. Obama is meeting with members of Congress on Thursday to discuss what the US intelligence community has discovered about the reported use of chemical gas last week.
Earlier in the week, White House press secretary Jay Carney said the administration had not ruled out a strike, and that evidence linking Assad's regime to chemical weapon use would merit a response that might include military force.
"[W]e have made clear for a long time, notwithstanding our views about the fact that we don't envision US boots on the ground in Syria, that we retain—and the president retains—all options available to him in Syria, and that includes military options," Carney said. "And that is the case here in response to this transgression."
"Broadly speaking," Carney said during a press briefing Tuesday at the White House, "I think it's important to note that it is in the clear national security interest of the United States that the use or proliferation of chemical weapons on this scale not go unanswered.  The consequences of a dissolution of that norm would be profoundly not in the interest of the United States or in the international community, in particular in this highly volatile region, but also around the world."
On Wednesday, the Associated Press quoted two unnamed White House officials who said on condition of anonymity that the administration is struggling to decide what Syrian targets could be hit and what kind of response the US would want as a result.
"If there is action taken, it must be clearly defined what the objective is and why" and based on "clear facts," one of those officials said.
"They are looking at what is just enough to mean something, just enough to be more than symbolic," a second official told the Los Angeles Times on condition of anonymity.
Now with a five ships all outside of Syria, at least for now, any strike against Assad's regime could call upon more firepower than before.
As RT reported earlier this week, the US and its allies have all-but surrounded Syria. The US has military bases in the neighboring countries of Bahrain, Qatar and the United Arab Emirates, and air-defense Patriot missiles are available to the north and south of Syria in Turkey and Jordan, respectively.
Additionally, at least one British cruise missile-carrying nuclear submarine and one French vessel could be sent towards Syria, and the US, UK and Turkey have airbases in the region that could assist with an air-to-land strike using F-16 fighter jets.
During Tuesday's briefing, Carney said the president would consult with Congress before a strike but did not say explicitly that Obama would ask for permission. According to Carney, confirmation that Assad ordered the use of chemical weapons would violate international norms and warrant a response that would not be necessitated by congressional approval. Pres. Obama will reportedly make available a declassified intelligence report justifying any response aimed towards Syria should elect to take action.
You can share this story on social media: