Multicultural masterpiece makes a mark in Moscow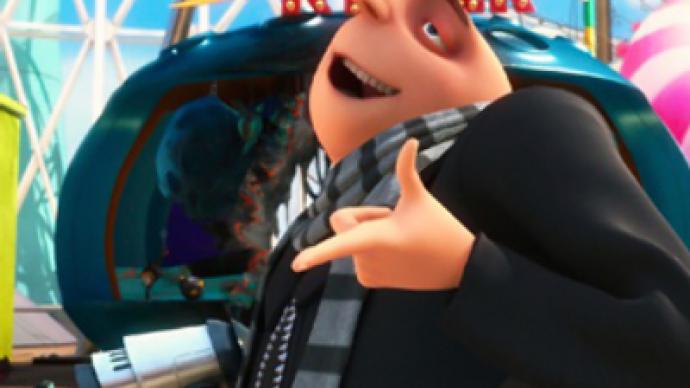 One of the most highly-anticipated films of the year, an animated masterpiece in 3D, "Despicable Me", has been unveiled during the Moscow International Film Festival.
Russian audiences have, in fact, been given a coveted chance to be the first to watch the carton prior to its global release.
One of the greatest actors of all time, Sir Laurence Olivier, was quoted as saying that an actor should be able to create the universe in the palm of his hand.
"Despicable Me" (image from moscowfilmfestival.ru) It seems that the multi-national team of creators of Despicable Me – along with directors Pierre Coffin and Chris Renaud, Art Director Eric Guillon; and Sergio Pablos who wrote the story – have managed to surpass the highest expectations, creating a state-of-the-art, living world, and every little thing which goes with it!
A synergy of fantasy and style, adventure and technology, emotion and innovation, the cartoon has a truly universal appeal.
The only "human device" which the 3D-glasses cartoon actually demands is a sense of humor.
One of the film's producers, Chris Meledandri, told RT, he "was fortunate to work with some of the world's best designers." One of the challenges, he explained, was the decision to leave America at some point, taking the production to France. As for the cartoon's budget, Meledandri said he does not know a single filmmaker who would say they had enough money to make a movie, be it $5,000 or $250,000,000.
The executive producer of both "Ice Ages" told the press-conference in Moscow that exposing the individual talent of up to 300 artists working on the film was "one of the core values" for him.
"Despicable Me" (image from moscowfilmfestival.ru) In fact, humor plays a key role in Despicable Me, which revolves around some unconventional, cute characters – super villain Gru, who is planning to steal the Moon; his cheeky rival Vector, as well as three lovely orphan girls, Margo, Edith and Agnes, dreaming of a loving mother and father…. What they get instead is Gru, and a hundred of his fun-loving little "UFO-cousins".
Meledandri told RT that in fact it is the "rip-off champion" Gru that he relates to in "Despicable Me". "Identifying with his wickedness was very much part of my attraction to the film".
He said it is an honor for him to be in Moscow for the first time. "It would make my grandmother very proud, because half of my heritage is from Russia."
The producer was quoted as saying, the most important thing for him was actually "redefining the perception of a family".
"The power of love bonds these four individuals together, redefining what a family could be."
And what could the future of 3D be, the producer was asked.
"There's no question that the fascination with 3D has spread all over the world. The real danger is the misuse of 3D," Meledandri replied. "If filmmakers are using 3D in an artful, thoughtful and deliberate way then it has a very bright future. If used recklessly to boost box-office in a short time manner, then audiences will tire of it very quickly."
It seems that the prophetic creator of Despicable Me knows perfectly well what he is talking about.
Valeria Paikova, RT