Toy helicopter helped change Feinstein's mind about surveillance drones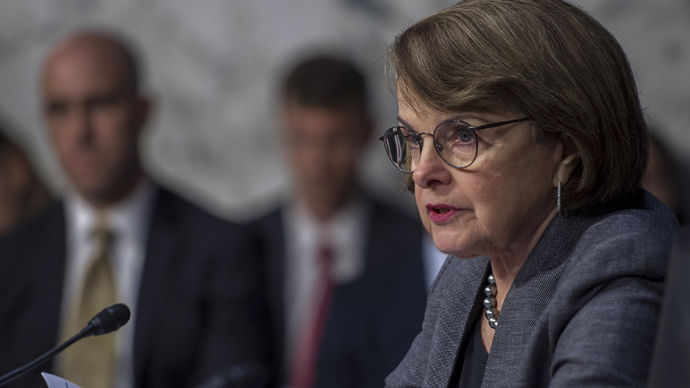 Senator Dianne Feinstein (D-California) now says she has some serious privacy concerns about domestic drones, but it might have been nothing more than a children's toy that put her over the edge.
Feinstein — who also serves as the head of the US Senate Intelligence Committee — has since last year been advocating for her congressional colleagues to implement privacy safeguards to protect Americans from any potential surveillance threats brought on by the small, unmanned aerial vehicles expected to soon invade local airspace.
"The administration is looking at a rules playbook as to how these won't be used and how they will be used," Feinstein told MSNBC a year ago this month. "So it's a very complicated subject of new technology and I think we have to take a pause and get it right."
But speaking to journalists at the CBS News program 60 Minutes recently, Sen. Feinstein shared a personal story that put into better perspective why exactly she's so worried about spy drones. During an episode that aired Sunday evening, Feinstein said an experience that she recently had with a "drone" outside of her home had something to do with how she now views UAVs.
"I'm in my home and there's a demonstration out front. And I go to peek out the window and there's a drone facing me. Well, whoever was running it turned it around quickly and it crashed," Feinstein said.
The Federal Aviation Administration is currently at work on hammering out guidelines for domestic drone pilots to abide by once small aircraft are allowed to hover in American airspace en masse. Speaking to 60 Minutes, however, Sen. Feinstein said she had some ideas herself about how to handle the drone debate.
"It's going to have to come through regulation. Perhaps regulation of size and type for private use," she told 60 Minutes journalist Morley Safer. "Secondly, some certification of the person that's going to operate it. And then some specific regulation on the kinds of uses it can be put to."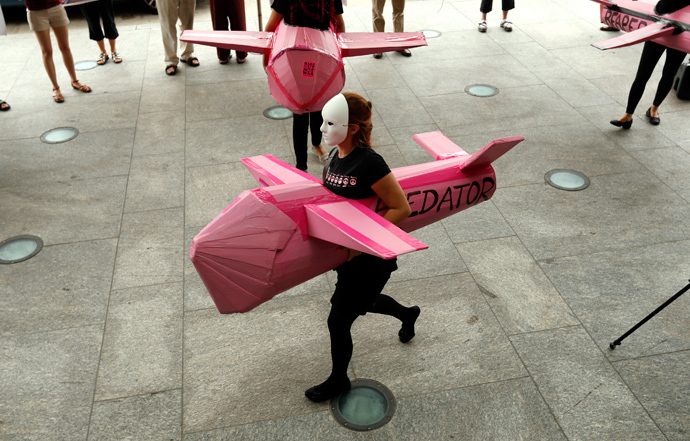 Whether the senator's encounter with an alleged drone occurred outside of her California or DC residence has yet to be disclosed, but it looks like the supposed UAV sighting she had was something entirely different.
Code Pink, a group of activists who have been extra critical of the US government's surveillance operations and drone warfare programs alike, say that they waged a protest outside of Feinstein's DC abode last year and used a toy helicopter, not a drone, at their demonstration.
Feinstein briefly mentioned her drone sighting during a congressional hearing earlier this year, and Code Pink campaign organizer Nancy Mancias told The Daily Beast then, "That could have been us."
Mancias and her Code Pink colleagues weren't deploying any sort of Predator drone, though, and told The Daily Beast's Abby Haglage back in January that her group came equipped with the type of flying robot that's marketed to adolescents.
"They're just toys, they couldn't do that much," Mancias said then. "When we flew them, some only got seven feet off the ground and crashed."
At the time, Mancias remarked that it was "interesting" that Feinstein was starting to show concern about the privacy repercussion that a domestic drone program could cause, and said, "She speaks out against it here, yet she's willing to let the same thing go on abroad."
This time around, Feinstein's latest remarks come only days after she was called out again for acting hypocritically with regards to the policy she is personally involved in setting: Last week, she accused the Central Intelligence Agency of unlawfully monitoring the computers used by Senate staffers involved in investigating the CIA's George W. Bush-era torture program. Previously, however, she said she had no problem with the surveillance operations waged by the US government that involved the collection of domestic telephone data.
Edward Snowden, the former National Security Agency contractor who has exposed an array of previously secret NSA programs since last year, was quick to condemn Feinstein after last week's remarks.
"It's clear the CIA was trying to play 'keep away' with documents relevant to an investigation by their overseers in Congress, and that's a serious constitutional concern," Snowden told NBC News."But it's equally if not more concerning that we're seeing another 'Merkel Effect,' where an elected official does not care at all that the rights of millions of ordinary citizens are violated by our spies, but suddenly it's a scandal when a politician finds out the same thing happens to them."
You can share this story on social media: