Feds make first step towards hemp legalization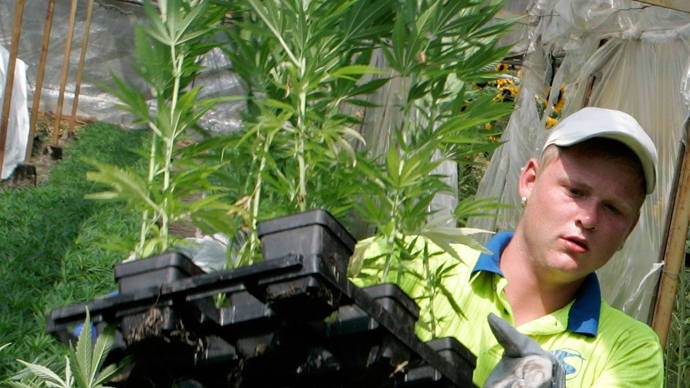 The United States federal government may not be ready to sanction marijuana use, but a new agriculture bill is set to legalize preliminary stages of hemp production in states that allow the practice.
A new farm bill, passed by Congress on Tuesday, would allow universities and state agriculture departments to establish industrial hemp growing programs. If these research programs go well, they could pave the way for commercial hemp farming to become a reality.
Hemp is a plant in the same family as marijuana, though it lacks its cousin's high levels of THC and is therefore much less potent. It's used to create numerous products, including cooking oil, clothing, paper, and rope. According to the Associated Press, the US imported about $11.5 million in hemp products in 2011.
"This is big," Eric Steenstra, president of advocacy group Vote Hemp, told the AP. "We've been pushing for this a long time."
Although hemp used to be grown in the United States, its cultivation was outlawed under the 1970's Controlled Substances Act. Supporters of the decision's review believe, however, that allowing states to move forward with industrial hemp will help the country gain a slice of a market that's currently controlled by China.
"Oregonians have made it clear that they believe industrial hemp should be treated as an agricultural commodity, not a drug," Rep. Earl Blumenauer (D-Ore.), who helped author the amendment, told The Oregonian in a statement. "By including language easing restrictions on industrial hemp in states where it is legal, Congress sends an important message that we are ready to examine hemp in a more appropriate way."
As AP noted, 10 states have already passed laws enabling hemp cultivation, though federal law has kept those efforts from moving forward. These states are Colorado, Washington, California, Kentucky, Maine, Montana, North Dakota, Oregon, Vermont and West Virginia – some of which are preempting the farm bill's passage by beginning to draft rules and regulations to govern hemp production.
According to The Wall Street Journal, some law enforcement groups are not pleased with the development. Because hemp looks so much like marijuana, they argue that legalizing its production could have an adverse effect on their effort to keep the illegal drug off the streets.
Meanwhile, some advocates, such as Steenstra, think the hemp provision indicates the federal government may be preparing to soften its position on recreational marijuana use. Others aren't as convinced.
"On the one hand, I think it's part of a larger agenda to normalize marijuana, by a few," Kevin Sabet of the anti-pot group Smart Approaches to Marijuana told AP. "On the other hand, will it have any difference at the end of the day? I would be highly skeptical of that."
Two states – Colorado and Washington – have already legalized recreational marijuana use, a list that seems poised to grow over the course of the next two elections. Advocates in Alaska and Oregon are hoping to take up legalization initiatives during the 2014 midterms, while 2016 could see the issue on the ballot in Arizona, California, Maine, and others.
You can share this story on social media: