Feds charge woman who hurled shoe at Hillary Clinton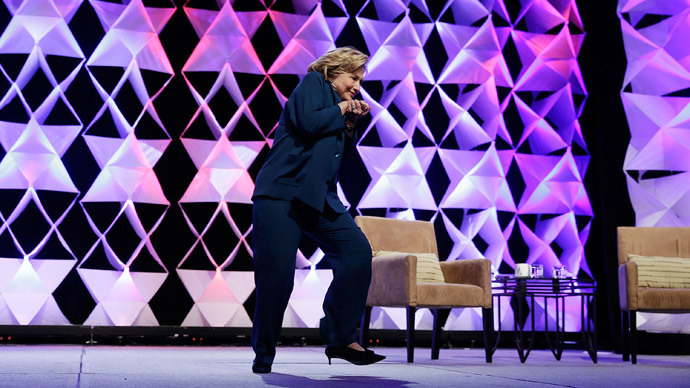 The woman who threw a shoe at former US Secretary of State Hillary Clinton during a speech in Las Vegas last Thursday is now facing federal charges. Clinton dodged the object and an usher escorted the woman, Alison Michelle Ernst, from the audience.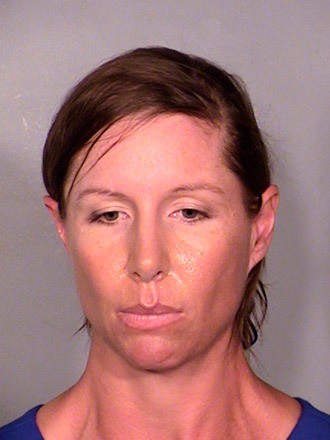 Clinton had only been on stage at the Institute of Scrap Recycling Industries convention at Mandalay Bay Hotel and Casino for moments when the object flew toward her from the crowd. Clinton, also a former New York state senator and first lady, stepped out of its path and joked, "My goodness, I didn't know that solid waste management was so controversial," the Associated Press reported. "Good thing she didn't play softball like I did!"
Ernst pulled the shoe – a black-and-orange Puma cleat – from her purse and hurled it at Clinton from about 60 feet away, witnesses told AP. The shoe was later recovered from the stage. The Secret Service complaint says Ernst also threw papers towards Clinton.
Mark Carpenter, a spokesman for the Institute of Scrap Recycling Industries, told CBS News that Ernst did not have convention credentials and, as such, should not have been in the ballroom. Secret Service Agent Edward Autelli wrote in the federal complaint that Ernst "somehow got past" the people checking tickets at Mandalay Bay.
Carpenter told CNN that Ernst "must have slipped under the rope at the last second." He added, "I saw papers fly when the protester stood up. I saw papers flying in the air." According to CBS News, one of the papers appeared to be a copy of a Department of Defense document from 1967 about an operation in Bolivia.
On Sunday, federal authorities lodged two criminal charges against Ernst: trespassing and violence against a person in a restricted building.
Ernst was booked by Las Vegas police on Friday on a misdemeanor disorderly conduct charge. She was later released. At the time of her arrest, "Ernst appeared to be in an agitated state but aware of what she had just done," the police report said. Ernst acknowledged throwing a shoe but didn't explain her actions to reporters as she was taken into custody by the Secret Service, AP reported.
District Attorney Steve Wolfson said he will likely drop the local charge now that Ernst is facing federal charges, according to the Review-Journal. Ernst could face up to a year in prison for each federal charge, according to the Journal News. She could have received up to six months for the disorderly conduct misdemeanor.
Talking heads from the conservative right believe that Ernst was a Clinton plant designed to make her seem more presidential, recalling the 2008 incident in which a Muslim journalist threw two shoes at then-President George W. Bush.
According to a post on Fox News contributor Bernard Goldberg's blog, "There is a political axiom, I believe first posed by Euclid or Archimedes, that when Hillary does something, or when something happens to her, she has carefully calculated it beforehand."
The post's author, Arthur Louis, goes on to say, "Remembering the Bush incident, she may have calculated that this would make her seem presidential. This would explain why Ms. Ernst was not pounded to a pulp by Hillary's bodyguards, and why she seems on the verge of getting off scot free. Don't be too surprised, the next time you visit Phoenix, if you see her sitting at a table in a downtown Hillary for President store front, stuffing and sealing envelopes."
Conservative commentator Rush Limbaugh also waded into the controversy, despite admitting not having seen footage of the incident. "Maybe it's because, in my subconscious, I think it was staged, or set up, or whatever," he said on his radio show on Monday. "I don't know why anybody would be throwing a shoe at Hillary unless – maybe it's an attempt to make the Benghazi people look like nuts and lunatics and wackos."
Clinton has Secret Service protection because former presidents and their spouses are covered for their lifetimes, said Brian Spellacy, head of the US Secret Service office in Las Vegas.
Clinton said in a speech in San Francisco last Tuesday that she is seriously considering a presidential bid, CBS News reported. She is currently touring the country and delivering a series of speeches while working on a book about her time in the State Department during the first four years of the Obama administration. She appeared at the Las Vegas conference alongside Apple co-founder Steve Wozniak.