Fed prepares for QE3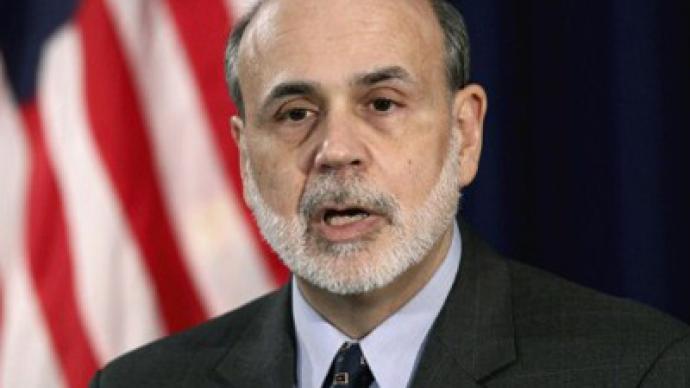 The central bank of the United States believes that America is still a ways from economic recovery, which could soon prompt the Federal Reserve to announce a new round of quantitative easing, or QE3.
Fed Chairman Ben Bernanke addressed the economic status of the US on Wednesday and experts predict that the grim statement he offered suggest that QE3 is just around the corner."The framework makes very clear that we need to be thinking about ways to provide further stimulus if we don't get improvement in the pace of recovery and a normalization of inflation," Chairman Bernanke said at a conference Wednesday. He added that unless the US sees a major economic recovery anytime soon, the Fed would be needed to step up to the plate."It sounds like the finger is on the trigger," Thomas Simons, a money market economist at Jefferies & Co, explains to Reuters.In August, Bernanke said that the road to recovery was "much less robust" than the Federal Reserve had hoped for, and as unemployment and poverty continue to cause concerns from Wall Street to Main Street months down the road, a new round of quantitative easing could soon be introduced by the bank.According to the chairman, the purchasing of bonds to boost the economy is "an option that is certainly on the table"Speaking Wednesday, Bernanke said that the Fed would keep interest rates low until at least 2014 and said that hopes of the American economy finally seeing a recovery were faltering. "If there's a need to let inflation" return "a little more slowly to target in order to get a better result on employment, then that's something that we would be willing to do," Bernanke said. Despite the Obama administration finally bringing the official unemployment rate below nine percent after years of a level teetering around substantially higher, Bernanke said Wednesday that "The unemployment level is elevated and the inflation outlook is subdued."Julia Coronado, chief economist for North America at BNP Paribas in New York, tells Bloomberg News that the statement was both unambiguous and aggressive and says, "My expectation is that we are going to get quantitative easing three in April."Eric Stein, a portfolio manager at Eaton Vance in Boston, adds to Reuters that "based on the language" Bernanke chose in his address, quantitative easing "could happen any time now."When the chairman suggested QE3 during an address last year, he cautioned critics that "the healing process should not leave major scars." North of the border, however, Canadians are already seeing success thanks to Bernanke's latest remarks — the Canadian dollar reached parity with the US dollar for the first time in almost three months on Thursday."Canada is definitely feeling the positive effects of a weaker US dollar," C.J. Gavsie of BMO Capital Markets tells Reuters. "This will continue assuming that story continues."
You can share this story on social media: