FED hopes to speed up inflation, pumps even more money into bonds
Published time: 12 Dec, 2012 20:50
Edited time: 13 Dec, 2012 00:50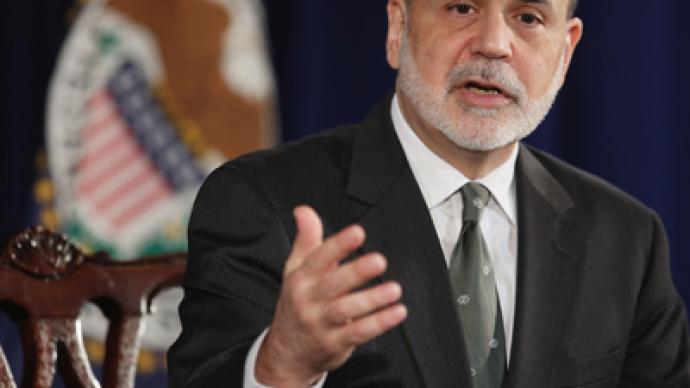 In an attempt to mend the struggling US economy, the Federal Reserve pledged to continue buying $85 billion per month on bonds and keep interest rates close to zero until US unemployment falls below 6.5 percent.
The Federal Reserve is trying to boost economic growth and lower borrowing costs for consumers by spending more and keeping interest rates close to zero.
Under a program called "Operation Twist", which expires at the end of 2012, the central bank is spending more on government bonds and mortgage-backed securities while also keeping interest rates down. The aim of the program is to keep long-term interest rates low, while increasing interest rates of short-term bonds.
The Fed on Wednesday announced that current short-term rate interest of 0.25 percent will stay the same until the 2.2 percent inflation pace rises to 2.5 percent.
But to boost the economy, the Fed must also compensate by spending $45 billion per month on long-term government bonds and continuing to spend $40 billion on mortgage-backed securities – a costly initiative that it hopes will lead to a recovering economy.
"The committee remains concerned that, without sufficient policy accommodation, economic growth might not be strong enough to generate sustained improvement in labor market conditions," the Fed said.
Interest rates have been close to zero for several years now, and the Fed pledged to keep them below 0.25 percent.
These low rates will remain so as long as the unemployment rate is above 6.5 percent, inflation is projected to be no more than 2.5 percent and long-term inflation expectations continue to appear positive.
"The committee views these thresholds as consistent with its earlier date-based guidance," the Fed said in its latest statement. Eleven out of 12 of the Fed's Federal Open Market Committee voted for the measures.
The Fed believes its initiatives will prompt consumers and businesses to spend more, particularly on homes and factory gear, since the bond-buying initiative will prompt investors to move their money to stocks, thereby lifting stock prices and making consumers feel wealthier.
Many economists believe the Fed's initiatives will not make much of a difference, since interest rates are already very low and many consumers do not qualify for loans needed to make large purchases.
But the Fed said its open-ended mortgage bond purchases would signal commitment to supporting the US economy as long as necessary, even if it continues to spend billions while keeping interest rates low.