FCC urged to revoke Fox News' license
Published time: 2 May, 2012 21:23
Edited time: 3 May, 2012 01:23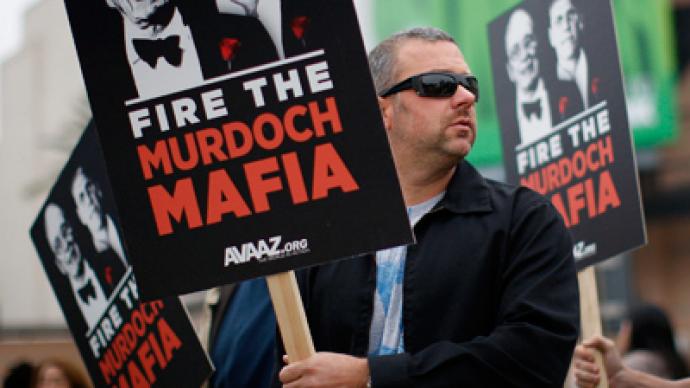 A watchdog group in Washington is telling the Federal Communication Commission that the hacking scandal plaguing Rupert Murdoch's News Corp. is enough reason to revoke the media mogul's broadcasting license in the States.
The Citizens for Responsibility and Ethics in Washington (CREW) sent a letter to the FCC this week demanding that the federal agency that oversees America's airwaves suspend the more than two dozen licenses issued to News Corp. that permits them to publish content to Fox affiliates from coast-to-coast. Citing a recent review by Great Britain's House of Commons Culture, Media and Sport Committee, CREW insists that the condemnation out of the UK is enough reason to come down on News Corp. state-side.
"Under US law, broadcast frequencies may be used only by people of good 'character,' who will serve 'the public interest,' and speak with 'candor'," reads the press release issued on Monday from CREW's DC office. "Significant character deficiencies may warrant disqualification from holding a license."
CREW calls into question particular remarks made overseas last month regarding the flawed policies that have almost caused the collapse of the News Corp. empire. Since being linked to an in-depth phone hacking scandal in the UK, not only was Murdoch forced to fold his New of the World periodical but a handful of top-ranking employees under his massive media empire have been forced to resign from their high-paying positions. After going before investigators in the UK last month, Murdoch's reign over American media may be at risk over remarks made about the News Corp. owner.
Not only did the UK Committee come to a consensus that both Rupert and Hames Murdoch ignored illicit activity within the ranks of News. Corp, but the investigators deemed the CEO's testimony "barely credible."
Additionally, the Committee concluded that Murdoch was "not a fit person to exercise stewardship of a major international company."
"The Commons Committee report concluded Rupert Murdoch 'did not take steps to become fully informed about phone hacking' committed by News International journalists and 'turned a blind eye and exhibited willful blindness to what was going on in his companies and publications,'" explains CREW this week. "Similarly, the committee found that James Murdoch exhibited a 'lack of curiosity…willful ignorance even,' regarding the hacking crisis".
"The House of Commons report makes clear that both Rupert and James Murdoch were complicit in New Corp.'s illegal activities. If the Murdochs don't meet the British standards of character test, it is hard to see how they can meet the American standard," adds CREW Executive Director Melanie Sloan.
CREW also says that, based on evidence uncovered as early as last summer, the watchdog group asked the United States Congress to consider opening an investigation on News Corp. last summer.
"Based on emerging evidence that News Corp. had engaged in extensive and illegal phone hacking, CREW previously sent a letter to the House and Senate Commerce Committees in July 2011 requesting congressional hearings on this matter."
In the last 12 months, both the US Justice Department and the Federal Bureau of Investigation have considered News Corp's role in illicit behavior in America. Now after the probe overseas, CREW is asking the FCC to revoke 27 separate licenses issued to Fox channels in the US.
"News Corp. has a pattern of outrageous and illegal conduct, including bribery, wire fraud, computer, and phone hacking," adds Sloan."If the FCC won't act to revoke Fox's broadcast licenses, Congress should immediately hold hearings. Retaining U.S. broadcast licenses is a privilege, not a right."