FBI recovered 105 missing and sexually exploited children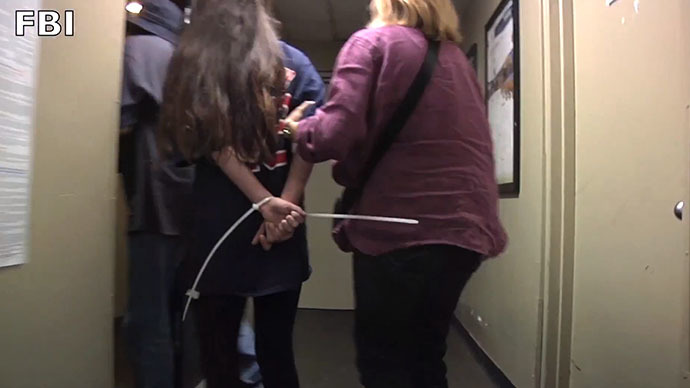 The FBI says they've recovered 105 missing and exploited children over the weekend by orchestrating a massive crackdown on crime rings that trafficked minors for sex.
The Federal Bureau of Investigation made the announcement Monday morning, touting the arrest of 150 alleged pimps assumed to be involved in selling minors through an underground sex trade that exploited missing teenagers around the country.

The children, mostly girls, ranged in age from 13 through 17, though investigators say most age 16 or younger.
According to a statement made early Monday by Ronald Hosko, the agency's assistant director of their criminal investigative division, coordinated raids took place in 76 cities from coast-to-coast over the weekend under the umbrella of "Operation Cross-Country," the largest effort of its kind ever undertaken by the FBI.
The FBI has provided video footage documenting some of the raids that occurred in Atlantic City, New Jersey and Washington, DC.
The Associated Press reported that the cities where the most missing children were rescued include San Francisco, California; Detroit, Michigan; Milwaukee, Wisconsin; Denver, Colorado and New Orleans, Louisiana.
During the weekend sting operation, FBI officers based out of Detroit apprehended 18 suspected pimps, Reuters reported. Additionally, stings in San Francisco and Oklahoma City, Oklahoma netted 17 and 13 arrests, respectively.
John Ryan of the National Center for Missing and Exploited Children said his group partnered with the FBI to assist with the initiative. In all, the FBI joined forces with 230 agencies across the United States.
The trafficking, said Ryan, largely involved selling children for sex over online websites, classified papers and highway truck stops, and occurs on the streets of "every city in America." FBI investigators added that some of the men involved in pimping children did so at large sporting events, including the NCAA men's college basketball tournament and the National Football League Super Bowl championship. Other highly frequented locales for child sex workers included street tracks and casinos, the FBI said.
"We congratulate you on the recovery of 105 children and the arrest of 150 pimps. Operation cross country is saving lives and brining to justice those who violently manipulate these children and sell them for sex," Ryan said at Monday's press conference.
"We must remember that these children are victims. They are too young to consent to having sex," said Ryan, who also equated the epidemic as "an escalating threat against America's children."
"We are trying to take this crime out of the shadows and put a spotlight on it," added the FBI's Hosko.
The FBI says they've rescued a total of 2,700 children since their "Operation Cross-Country" campaign began in 2003. During that same decade-long span, the program has helped bring around 1,350 convictions, of which at least 10 involved sentences of life behind bars.
You can share this story on social media: