Fatal painkiller overdoses rise for eleven straight years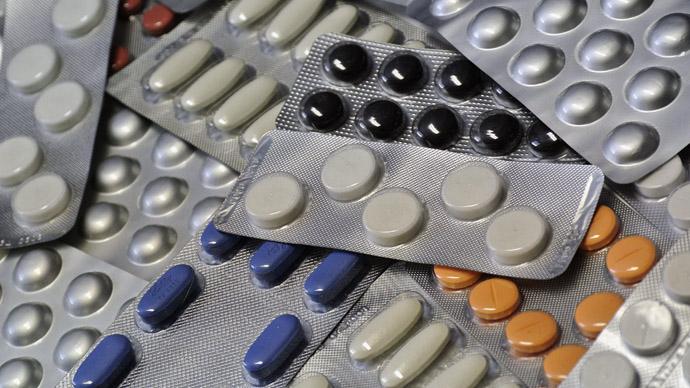 More Americans are dying from prescription drug overdose each year, causing a public health epidemic that has only been getting worse. And most of the fatalities are accidents, with 60 percent of overdoses involving medicines prescribed by a doctor.
Since 1999, prescription drug use, misuse and overdose has increased steadily, causing the deaths of at least 20,000 US residents each year, the Centers for Disease Control and Prevention relayed in a new report.
In 2010, 38,329 people died of drug overdose in the US – and only 40 percent of these deaths were the result of taking illegal narcotics. About 60 percent of the fatalities were due to an overdose of prescription medicines, including addictive painkillers like OxyContin and Vicodin. Such opioid drugs were responsible for three out of four medication overdose deaths, which accounted for 22,134 deaths in 2010.
But while some might suspect suicide to be a cause for the high fatality rate, the CDC reports that only 17 percent of the medication-related deaths were considered suicide. Most of the other deaths were a result of patients getting addicted to ease the pain of their health conditions – and taking more than their prescribed dose.
Dr. Thomas Frieden, head of the CDC, told the Associated Press that the risk of taking opioids is so high that he recommends patients to find safer alternatives.
Opioids are useful for cancer, "but if you've got terrible back pain or terrible migraines," using these drugs is very dangerous, Frieden said.
"The big picture is that this is a big problem that has gotten much worse quickly," he added.
While the CDC does not have statistics on the number of drug overdose deaths past 2010, Dr. Rich Zane, chair of emergency medicine at the University of Colorado School of Medicine, believes they have undoubtedly increased.
"The results are consistent with what we [currently] experience" in emergency rooms, he told AP. The overdose epidemic has alarmed some states. West Virginia's fatality rate increased over 500 percent in about a decade, causing serious concern over the prescription of opioids. Nationwide, deaths from prescription drug overdoses have quadrupled from 1999 to 2010, bringing the latest total to 23,000.
Most of the prescription drug-related deaths occurred in adults between the ages of 35 and 44.
"I saw so many people die from pills," Law Enforcement Against Prohibition speaker Nate Bradley told the San Francisco Chronicle. "My first autopsy was a Vicodin overdose – the accidental Vicodin overdose of a 38-year-old woman. And I sat there and watched them take apart her body, because she accidentally had too much."
With more people dying accidentally from Vicodin than heroin, states are attempting to spread a greater awareness of the dangers of prescription drugs, as well as make them more difficult to get. Some states are introducing laws that would shut down "pill mills", which are doctors' officers and pharmacies notorious for over-prescribing addictive medicines, Frieden explained.
"This is really a state problem or even a national problem," University of Nebraska Medical Center Dr. Aly Hassan told Medical News Today.
The CDC last year referred to prescription drug overdose as an "epidemic", and doctors predict this epidemic only to worsen as more Americans become addicted to the medicines meant to alleviate their pain.
You can share this story on social media: