8 dead after explosion causes building collapse in Upper Manhattan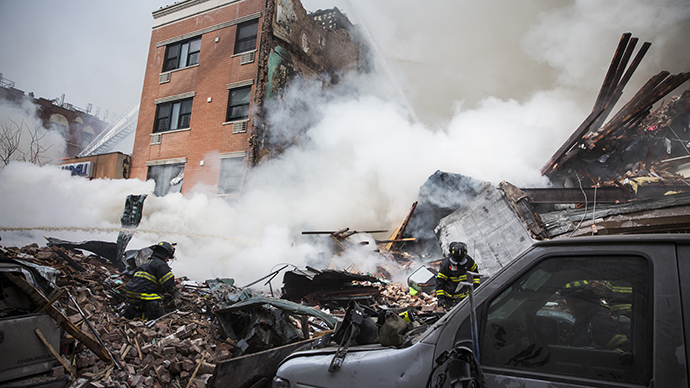 NYC Mayor de Blasio confirmed that a gas leak triggered an explosion which destroyed two buildings in Upper Manhattan Wednesday morning at around 9:31 a.m. EST. Over half a dozen people have now been confirmed dead and over 74 injured.
#explosion116pic.twitter.com/ROzHoXHKDB

— Juan A. Vazquez (@madebyjuan) March 12, 2014The bodies were recovered from the scene early Thursday morning, with cold temperatures complicating rescue efforts.Three of the six victims killed in the explosion have been identified as Griselde Camacho, Carmen Tanco and Rosaura Hernandez-Barrios, NBC 4 New York reports. Of the three unidentified victims recovered overnight, two of them are men and one is a woman.
More than 250 members from the New York Fire Department (FDNY) have been dispatched, where they continue to extinguish the remnants of the blaze at 1646 Park Avenue in Harlem. Rescue workers are using back hoes and a bulldozer to search for any victims still buried in the rubble. Thermal imaging cameras are also being employed to identify heat spots which could either indicate bodies or pockets of fire.
One victim has been identified as 45-year-old Griselde Camacho, a security officer who worked at the Silberman School of Social Work building. Also killed was Carmen Tanco, 67, a dental hygienist. Her cousin, News 12 cameraman Angel Vargas, said the family started a desperate search when she failed to show up to work on Wednesday, AP reports.Police identified another victim as Rosaura Hernandez-Barrios, 21.
The bodies of four unidentified people have also been found. Two of the unidentified victims are men, and one of htem is a woman. The FDNY was not immediately able to confirm the sex of the fourth person.
Hospitals have reported receiving 74 people, including one child and one woman who suffered critical injuries. Nine people remain missing following the blast according to the Mayor's office.
City authorities said a gas leak sparked the massive blast, which could be felt from a mile away. The explosion blew out windows in surrounding buildings and sent a hail of debris onto neighboring streets. Many were trapped in the cars and apartments in the immediate aftermath of the disaster.
"It sounded like a bomb went off, so everyone started screaming, 'They blew up the Metro North!' But when we got there, we saw it was the building and started pulling people out," Denise Ortiz, who was at a nearby doctor's office when the building collapsed, told Fox 19.
On Twitter, one eyewitness said he was on his way to work when he came across the scene and saw nearby cars covered by bricks and glass. Another, Campus Reform reporter Katherine Timpf, tweeted that her apartment five blocks away on 121 Street shook as the explosion occurred.
New York Mayor Bill de Blasio said there was scant warning to organize an evacuation, as the blast came only 20 minutes after city authorities were alerted to the gas leak.
"This is a tragedy of the worst kind because there was no indication in time to save people," he said, adding that the search "will take quite a bit of time."
Firefighters are still bringing injured people away from the scene. pic.twitter.com/zmbUHrqTny

— Don Champion (@DonChampionTV) March 12, 2014
The New York Police Department's bomb squad was initially called to the scene, though
The building is on the west side of Park Avenue in New York City's East Harlem neighborhood between 116 and 117 Street, and contained a piano store in addition to apartments.
The Metro-North railroad suspended service in and out of Grand Central Terminal in downtown Manhattan as a precaution, and local trains were halted after debris reportedly landed on the tracks roughly nine blocks away from the building collapse.
DETAILS: Firefighters trying to put out blaze after explosion in Manhattan http://t.co/suR0aog1zq via @nycjimpic.twitter.com/QJClOHJN4k

— RT America (@RT_America) March 12, 2014
BREAKING: Explosion and building collapse reported in Manhattan via @madebyjuanpic.twitter.com/tccuMn4X9d

— RT America (@RT_America) March 12, 2014
You can share this story on social media: