6.9 quake rattles northern California coast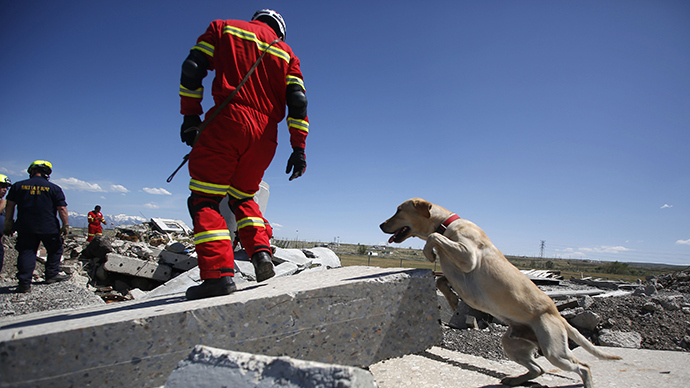 ​A magnitude 6.9 earthquake with an epicenter 50 miles west of Eureka was widely felt across the region by thousands of people, and followed by more than a half-dozen aftershocks.
The earthquake which struck at 10:18 p.m. PDT Sunday was estimated to have occurred about four miles below the Pacific seabed, according to the US Geological Survey, with one aftershock registering 4.6.
The National Tsunami Warning Center said there was no threat of a tsunami for the region.
Authorities in Humboldt County, which includes most of the populated areas near the epicenter, announced early on Monday, more than four hours after the earthquake struck, that they had received no reports of any damage or injuries.
More than 3,000 people – some across the border in Oregon - reported on the USGS website that they experienced the quake.
"This lasted longer than any earthquake I've ever felt," Raquel Maytorena, 52, who lives in Ferndale near Eureka, told The Los Angeles Times. "It just kept going and going, very slowly and softly. It was not violent. It almost felt like you were in a boat that was rocking."
Maytorena said it felt like it lasted about 20 seconds.
"The animals, they felt it," she said. "My two horses were running around out by the barn, and my dogs, six dogs, were ready to get out of the house."
Earthquakes are not an uncommon occurrence in Eureka, a city of about 27,000 people situated approximately 270 miles northwest of San Francisco.
The region experienced a magnitude-5.6 earthquake in February, 2012 that did not cause serious damages or injuries.
Californians, who must share space with the 810 mile (1,300 km) San Andreas fault, the tectonic boundary between the Pacific Plate and the North American Plate, have good reason to be concerned about tremors.
A 2006 study concluded that the San Andreas fault has reached a sufficient stress level for the next "big one", that is, an earthquake of magnitude 7.0 or greater to occur.
In the San Francisco earthquake of 1906, which registered a magnitude of 7.8, at least 3,000 people perished in collapsed buildings and subsequent fires. Over 80 percent of the city was destroyed.
You can share this story on social media: