Report justifies EPA decision on fracking despite agency's bow to industry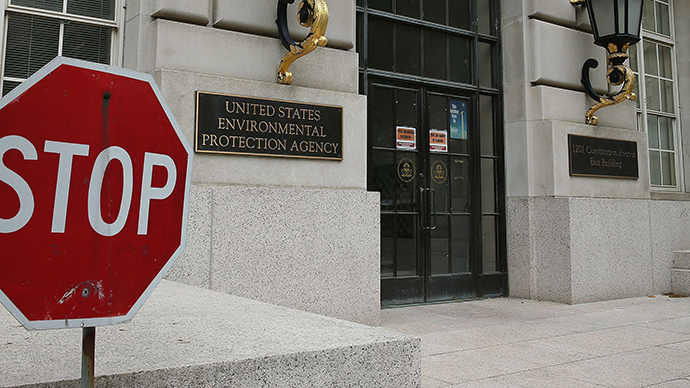 ​A 2010 US Environmental Protection Agency order for a gas drilling company in Texas to clean its tainted water wells was justified, the agency's inspector general has determined. The EPA rescinded the order in 2012 after the company protested.
The Environmental Protection Agency (EPA) began investigating possible methane-contaminated water in Weatherford, Texas in late 2010, overstepping slow-to-act state regulators. Using an emergency order, the EPA called on Range Resources - a gas drilling company working in the area - to clean its nearby water wells and provide safe drinking water for at least two households. The company halted its efforts once the Texas Railroad Commission, which oversees oil and gas development in the state, said Range Resources was not responsible.
Despite having added proof from an independent analysis that gas in drinking water likely came from Range Resources' operation, the EPA dropped its emergency order in March 2012. The change of heart was based on Range Resources' refusal to cooperate with future EPA testing at its drilling sites, and the company declining to take part in a national study into hydraulic fracturing, according to AP.
The sudden turnaround by the EPA invoked the ire of drilling proponents suspicious of political maneuvering behind the agency's initial order and opponents of fracking who decry the practice's damning effects on the environment and public health, as well as the corporate influence associated with drilling permits.
The EPA Inspector General (IG)'s report was prompted by Sen. James Inhofe (R-OK), a staunch supporter of gas drilling. The new report probed whether intervention by EPA Region 6 investigators against Range Resources was spurred by political influence within the Obama administration.
"Region 6's issuance of the emergency order to Range Resources under Section 1431 of the Safe Drinking Water Act, and the region's subsequent enforcement actions, conformed to agency guidelines, regulations and policy," the report ultimately found. "The region's interactions with state officials and other stakeholders were appropriate and within Section 1431 guidelines."
The Weatherford, Texas episode isn't the only time the EPA has presented evidence of contaminated drinking water from fracking before rescinding its position based on industry protest. A similar dispute occurred in Wyoming in 2011, when the EPA softened its stance on tainted water from fracking after industry and Republican attacks on the agency's examinations. The EPA dropped another study of fracking pollution in Pennsylvania after outcry about its methods.
"The EPA's internal watchdog has confirmed that the EPA was justified in stepping in to protect residents who were and still are in imminent danger," said Sharon Wilson, a regional organizer of environmental group Earthworks. "Now we need an investigation as to whether political corruption caused EPA to withdraw that protection."
Because the Texas Railroad Commission has started its own investigation into the case, the EPA can no longer legally intervene as it did in 2010, despite the IG report's vindication of agency actions.
"The Obama administration appears to be more concerned about protecting corporate interests, not the public interest," said Steve Lipsky, a Weatherford homeowner who sued Range Resources after the EPA named the company as the culprit for his tainted water. "President Obama promised that hydraulic fracturing would occur safely. With this IG report, it now seems clear that he is determined to squash any evidence to the contrary."
Range Resources responded to Lipsky's failed lawsuit with its own defamation case against the homeowner, who provided video to regulators - and online - showing his drinking water engulfed in flames. Presiding Judge Trey Loftin dismissed Lipsky's claims, citing lack of jurisdiction, but allowed Range's defamation suit to proceed. Loftin later recused himself from the case based on reelection campaign statements he made showing clear bias against drilling opponents.
"Regulators shouldn't have to be pressured into doing their job to protect people like me from drilling impacts," said Shelly Perdue, another Weatherford-area resident with drilling-polluted water, according to Earthworks. "If what has happened to me is happening to others, I completely understand why communities across the country are voting to ban fracking and drilling."
Range Resources did not respond to a request for comment, according to the Dallas Morning News.
Hydraulic fracturing, or fracking, is the highly controversial process of injecting water, sand, and various chemicals into layers of rock, in hopes of releasing oil and gas deep underground.
Supporters say fracking brings jobs and opportunities for energy independence, though detractors have pointed to exaggerated employment claims - not to mention the health risks related to chemicals used in the practice.
According to a 2010 congressional investigation, Halliburton and other fracking companies had used 32 million gallons of diesel products, including toxic chemicals such as benzene, toluene, ethylbenzene, and xylene. Low levels of exposure to such chemicals can trigger headaches and dizziness, while higher exposures can cause cancer.
In October, researchers found high levels of radioactivity, salts, and metals in water and sediment located downstream from a treatment facility which processes fracking wastewater from oil and gas production sites in Pennsylvania's Marcellus shale formation.
A new report published recently in the journal Endocrinology shows that a dozen chemicals used regularly in fracking are suspected of being endocrine disrupting chemicals, or EDCs. Such chemicals can interfere with the human body's endocrine functions and have been linked to heightened risks of cancer, low fertility rates, and decreased sperm quality.
The widespread drilling technique is receiving scrutiny across the US, including places where energy development is commonplace.
Last week, the Pennsylvania Supreme Court ruled that a 2012 fracking law allowing gas companies to drill anywhere in the state without regard to local zoning laws was unconstitutional, marking a rare legal victory for opponents of the practice.