LA fire fighters caught in porno scandal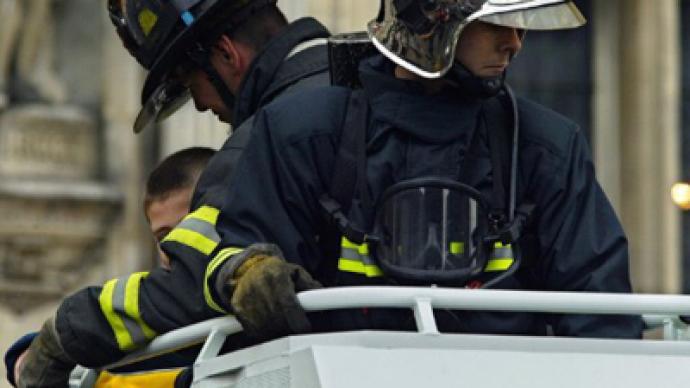 City officials in Los Angeles are asking the LA Fire Department to explain themselves after it's become clear that porno films were produced with departmental fire engines serving as a substantial prop in at least two skin flicks.
No, no. Not that kind of prop. Actress Charley Chase can barely contain herself on the scene of a film released on the website Brazzers. "Look at this fire truck! Isn't that nice," the entertainer enthusiastically quips full of coy as she looks towards the camera from Venice Beach. She mounts the steps to the big red engine, spreads her legs and, well, she doesn't exactly put out a fire. Authorities in Los Angeles are trying to extinguish the story by nipping it in the bud before it generates any more poor press for La La Land, but it might have already been too late. As an investigation open ups into the usage of the fire truck, it turns out that that incident with Chase wasn't the first time that crews helped out on the set. While Engine 263 from a Venice Beach firehouse is the vehicle in question here, another truck from a Hollywood station has since been discovered in a different x-rated flick. The case of Engine 263 is causing for some concern, however, as informants suggest that firefighters involved were all too willing to lend a hand.One insider tells an NBC affiliate in LA that firefighters "set it all up ahead of time" along with "the film crew" and thought the whole thing was in Venice was just "good clean fun." As it turns out, however, lending a fire truck to a pornography studio so that a paid actress can masturbate on it is not permitted. At least not per departmental policy, that is. While Los Angeles does not have exactly the most wholesome of reputations, officials still say this is kind of a problem. Especially since, as an insider told NBC4 LA, "the battalion chiefs knew. Everyone at the station level knew.""It's not one of our proudest moments," Capt. Jaime Moore, LAFD spokesman, tell the Los Angeles Times.Moore was likely to have reacted the same way only four months earlier when the LAPD began investigating allegations that two traffic cops took part in a porn video. In that case, it was believed that police officers were actually on the clock while lending their acting talents to the porno production. While firefighters aren't explicitly shown "performing" with Chase on Venice Beach, it is doubtful that they stuck their fire hose anywhere inappropriate. As it stands, however, investigators have enough to work with for the time being. "It does cause me concern that a film of that type would be filmed anywhere close to city property," Los Angeles Mayor Antonio Villaraigosa said Thursday to the LA Times. "It's unacceptable.""The fire chief is adamant about addressing the issue, finding out what took place," Cpt. Tina Haro, an LAFD spokeswoman, adds to NBC Los Angeles. That should prove to be an easy task, as fortunately, at least some of the action was caught on film.During the film, the camera cuts to a group of nearby men, faces blurred, that claim to be firefighters. If they did allow for the filming to take place, that is only the tip of the iceberg as far as violations go. Engine 263 also happens to be sprawled across two disabled parking spots, also a no no in the eyes of the LAFD. Policy also states that firefighters must "operate apparatus in a way that does not compromise the reputation of the department" and that any apparatus "shall be kept in sight at all times."Now what kind of porno would that be?On her own blog, Chase has responded this week, acknowledging that she has been subjected to "a strange amount of harassment" from both the Fire Department and reporters in days past. Regardless, her Twitter account reveals that she has been booked for numerous appearances on area news shows in the aftermath of the Fire Department's little pornography problem. She says that the film was from nearly three years ago and, frankly, she thinks it is "crazy stupid that this is a problem now."Chase also confirms that the firefighters oversaw the production, writing that they watched her "stroll the beach from a distance" but that they were not involved in what she says was "invading the truck.""They're trying to determine whether the firefighters really knew this was going to happen," Moore tells the LA Times. "Did they participate, and why wasn't someone on the engine?" he asked. "I never got to meet any of those men that day, but I sure do hope they don't hate me or porn for what happen," writes Chase. "Again, I am super sorry to all of them involved and I promise to keep the fun we have in the future our dirty little secret."That filthy fun will come courtesy of a recent Adult Video news Award winner, too! Chase took home the 2011 AVN Award for Best Education Release for Tristan Taormino's Expert Guide to Advanced Fellatio.
You can share this story on social media: