8-year-old saves six people from fire, dies trying to save seventh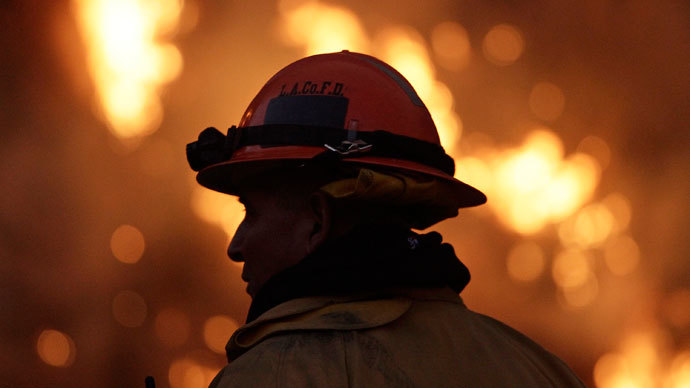 An eight-year-old New York boy is being hailed as a hero after saving six people from a mobile home fire, dying as he attempted to save his grandfather.
East Rochester's Tyler Doohan convinced his mother to let him spend the night with his grandfather when the fire broke out early Monday morning sometime after 4 am.There were nine people total in the trailer, and authorities believe Tyler was able to help wake up and lead six family members out of the fire, including two 4- and 6-year-old children.
Once outside the trailer, family members say Tyler realized his grandfather had not made it out, and he went back inside to save him. Firefighters responded to the emergency around 4:45 am, but Tyler and his grandfather were both found dead inside the trailer, along with the boy's uncle.
"It makes me really proud, it really does. But I just want him back," Tyler's mother, Crystal Vrooman told local ABC affiliate WHAM.
"All I could think about is how he couldn't breathe," she added. "I'm just so grateful that he went with people that he loved … He didn't go alone."
The six family members who made it out of the trailer alive were transported to a local hospital, where they were treated for minor injuries.
"The roof had collapsed on the front half of the trailer and one of the individuals was found there, probably on a couch, but there was nothing left to even see if it was furniture," Penfield Fire Chief Chris Ebmeyer said to the Democrat and Chronicle. "In the rear, there was a bedroom and the other deceased male was found in a bed. The child was a few feet way."
"He saved those other six people," he said.
Along with Tyler's relatives, the trailer was also home to numerous animals. According to CNN, several dogs, cats, hamsters, and a rabbit died in the blaze.
The cause of the fire is still under investigation, though officials speculate that it could have been caused by an electrical problem.
Tyler's actions have inspired the local community, and the interim superintendent of the fourth grader's school district said the boy "bravely and selflessly" gave his own life.
"I just got an email from one of our staff members, who when they heard Tyler had gone back in, or continued to help his grandfather get out of the burning building, they were not surprised at all," Richard Stutzman told WHEC Rochester.
"That's the type of young man he was, and in my heart and the heart of East Rochester, he's a true hero."
You can share this story on social media: