Legal marijuana grower readies for two-year federal prison sentence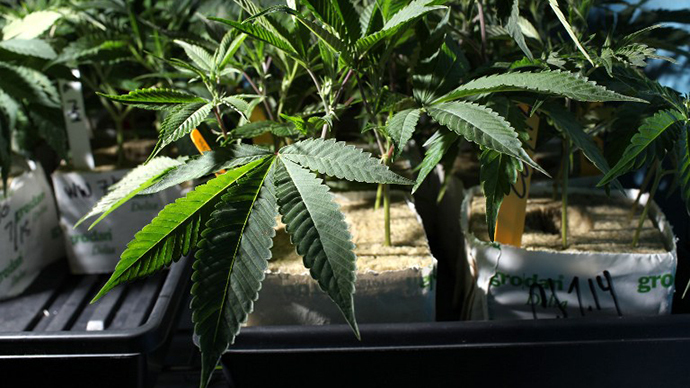 A California man plans to turn himself into law enforcement on Monday afternoon and begin serving a two year prison sentence that he says was handed down "for working at a pot shop that was legal in my state."
Indeed, the collective of marijuana dispensaries that Robert Duncan worked for until October 2011 as the manager of growing operations was anything but illegal under California law. Nevertheless, he was indicted by the United States Department of Justice the following year for violating federal drug laws and subsequently pleaded guilty to manufacturing marijuana. He was sentenced to serve two years in prison as a result, and intends on handing himself over to authorities Monday afternoon live on camera.
There is a 2 p.m. local time deadline that day for Duncan to surrender to the police, and the Huffington Post intends on filming the ordeal. But according to a first-person account that Duncan has provided to the outlet detailing what he has gone through already, he isn't too certain what he'll endure behind bars.
"It's really hard to find good information about federal prison, the do's and don'ts, what to expect, what you can bring, what you can say. It's kind of like falling into a black hole. I'm going to be very out of water," Duncan wrote.
The events of the past few years are far from foreign to him, however, and in that same blog post he recalled what has happened and attempted to make sense of the strange legal adventure that has plagued him since the Oct. 2011 raid.
Duncan told HuffPost that he earned an undergrad degree in communication design and worked in Los Angeles for a few years before the recession left him looking for new employment. Then an opportunity in the San Francisco Bay Area arose, and after some careful consideration he accepted a job managing growing operations for a state-licensed Sacramento weed dispensary soon after called MediZen.
"I paid about $800 to consult with a lawyer who specializes in this field before I said yes," Duncan wrote. "He said, 'You know, they don't really raid anymore, these things are fewer and fewer far between.' "If they do go after people, he said, they go after the kingpin, the person who's in charge of everything."
Notwithstanding that reassurance, Duncan — merely the grower for MediZen — was named in a federal indictment unsealed in 2012. "I wasn't even an owner, didn't have any stake in the company, didn't have any ownership of anything," he told HuffPost. "My whole strategy all along has been to try and be as compliant as possible and benefit from all the big bucks that the owners of the company were spending on attorneys. I spent about $30,000 in legal fees."
"We hired lawyers from day one. We were entirely compliant with state law. It was shortly after the federal government said it would not intervene if people followed state law. We wanted to abide by the rules. None of us had criminal backgrounds. We're all regular guys. The only reason we got into this was because the federal government said they wouldn't intervene," he recalled.
But when the feds did get involved, they said Duncan participated in "a large business that grew and sold marijuana for profit" in defiance of US law.
"The US Department of Justice has consistently stated that large-scale commercial marijuana cultivation and distribution operations will continue to be subject federal prosecution," US Attorney Benjamin Wagner said when the Justice Dept. weighed in with a press release in January 2013 when guilty pleas were first entered.
Matthew Davies — the owner of the shop and Duncan's employer — was indicted as a result of that same Oct. 2011 raid and sentenced to five years in prison. Another co-defendant, Duncan wrote, "got three and a half and is having to sell his house."
"Now that all three of us are sentenced, the case is pretty much closed," he wrote. "It boils down to the feds wanting to make an example out of us. There's no rhyme or reason, no formulas, like the feds saying you have too many patients or you have too many profit dollars. And actually, we really weren't making that much money because we were just reinvesting into the company. And I didn't see any of that anyways. I just had a modest salary," Duncan told HuffPost.
But now only a few months after Duncan and his colleagues had their business aborted by the feds, marijuana entrepreneurs elsewhere in America are thriving as the result of recently approved legalization laws that have some saying that soon the entire country will end its pot prohibition. Recreational weed is currently available for adults to legally purchase in Colorado, and soon residents of Washington state will have that same luxury as well.

Sales in Colorado have successful to say the least, and the clerk of Pueblo County recently told the Associated Press that the state is expected to $11.2 million this year just off of weed taxes alone. Just as in California, though, those operations remain illegal under federal law. And now as the nation considers going that same route, Duncan says he's been left with a sour taste in his mouth.
"President Obama saying that marijuana is like a vice similar to alcohol, maybe there's a bigger strategy there and he's trying to ramp up for a bigger policy change. But the snapshot of right now -- it couldn't be a more insulting slap in the face," he told Huffington Post.
When Duncan's former business was raided in 2011, State Assemblyman Tom Ammiano (D-San Francisco) told the Sacramento Bee that "The 80 percent of us Californians who support medical cannabis are disappointed (in the raids) and want some backing from the (Obama) administration to end this reefer madness." According to the results of a poll released by the Pew Research Center last April, for the first time ever a majority of Americans — 52 percent — favor the legalization of marijuana.
You can share this story on social media: