Majority of Americans approve drone strikes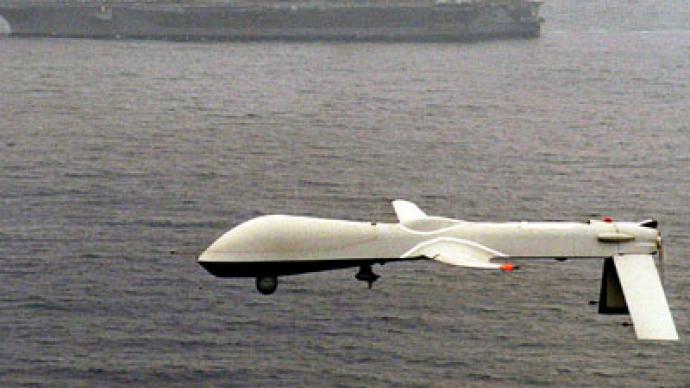 A new poll has found that the majority of Americans approve of the US government's drone campaign, which targets extremist leaders in the Middle East while also killing 49 civilians for each terrorist.
Pew Research found that in 17 out of 20 countries surveyed, more than half disapprove of the strikes, while 62 percent of Americans support the targeted-killing initiative.In Greece, 90 percent of those surveyed condemn America's drone strikes, followed closely by Egypt's 89 percent.Drone strikes are also condemned in Jordan (85 percent), Turkey (81 percent), Spain (76 percent), Brazil (76 percent) and Japan (75 percent).The White House has repeatedly claimed that a low number of civilian causalities result from the controversial drone strikes – but a new survey found that the opposite is the case.A new study released last week by researchers at New York University and Stanford law schools found that terrorists only account for one out of every 50 deaths (2 percent) at the hand of unmanned drones in Pakistan. The survey confirms fear that this method of combat has killed significantly more civilians than suggested.The study recommends that the US conduct "a fundamental re-evaluation of current targeted killing practices," which leaves 49 civilians dead with each targeted terrorist."Drones hover twenty-four hours a day over communities in northwest Pakistan, striking homes, vehicles and public spaces without warning. Their presence terrorizes men, women and children, giving rise to anxiety and psychological," the study writes.Additionally, the study found that the CIA has been "double striking" targets, thereby killing first responders that come to the scene of the attack.The Bureau of Investigative Journalism has found that from June 2004 through mid-September 2012, drone strikes killed between 2,562 and 3,325 people in Pakistan – including children.But regardless of the harm that drone strikes inflict upon those living in countries including Pakistan, Yemen and Somalia, most Americans – including 72 percent of Republicans – support the targeted-killing initiative.
You can share this story on social media: