New Senate bill would add privacy, transparency requirements to domestic drone use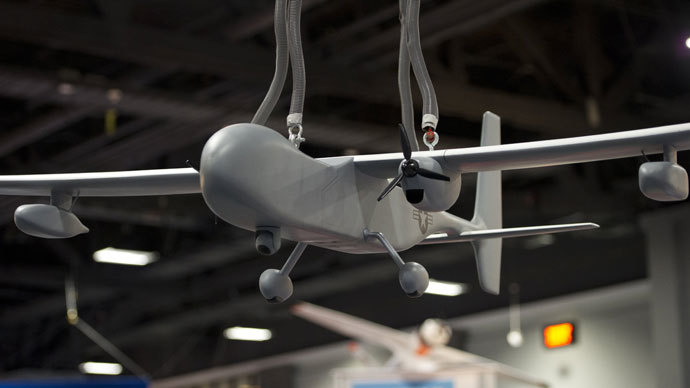 Legislation introduced Monday in the US Senate aims to add privacy controls and public transparency mandates to existing legislation that will guide the use of drones by commercial and government entities in the United States.
The Drone Aircraft Privacy and Transparency Act, offered by Sen. Ed Markey (D-MA), would amend the Federal Aviation Administration Modernization and Reform Act to require law enforcement to obtain a warrant before using surveillance drones on US soil, except in cases of emergency.
The Federal Aviation Administration (FAA) is currently developing rules for domestic drone use by both private and public operators pursuant to the 2012 law. The agency is required to have the regulatory guidelines in place by 2015, though the FAA has already issued over 400 active drone certifications.
The new legislation would bar the FAA from offering drone permits unless the license application "includes a data collection statement that explains who will operate the drone, where the drone will be flown, what kind of data will be collected, how that data will be used, whether the information will be sold to third parties, and the period for which the information will be retained."
Markey's bill would also require law enforcement - including their contractors and subcontractors - to "include an additional data minimization statement that explains how they will minimize the collection and retention of data unrelated to the investigation of a crime."
The bill would "require the FAA to create a publicly available website that lists all approved licenses and includes the data collection and data minimization statements, any data security breaches suffered by a licensee, and the times and locations of drone flights."
Exceptions to the requirement that law enforcement get a warrant before drone surveillance use include situations when authorities believe there is imminent risk of death or serious physical injury, or when the US Department of Homeland Security has determined there is "credible" evidence of a terror attack.
The FAA estimates that 7,500 commercial drones will be possible in the US within five years. Aerospace industry research firm Teal Group believes global drone spending may hit $11.4 billion by 2022.
The Association for Unmanned Vehicle Systems International, the top unmanned aerial vehicle (UAV) trade group, estimates the drone industry could reach more than $80 billion in the US in the next decade.
Privacy, transparency, and civil liberties advocates hailed the legislation as valuable protection in an age of weaponized drone use overseas and surveillance use along America's borders by US military and intelligence agencies.
"Domestic surveillance drones pose a serious threat to personal privacy and raise significant constitutional concerns that must be addressed before drones take flight," the National Association of Criminal Defense Lawyers said in a statement, adding that the bill was a "first step towards transparency and accountability in future drone use."  
The rapid proliferation of drones - and a lagging regulatory framework - has sparked concern over how UAVs will be governed once their use goes beyond the federal government.
"Bills like the Drone Aircraft Privacy and Transparency Act of 2013 assure that Americans' privacy won't go extinct in the 21st century," said Chris Calabrese of the American Civil Liberties Union. "It is vital that we have comprehensive rules in place so that new technologies like drones are used in a responsible manner by both companies and the government before they blanket the skies."
Markey introduced similar legislation in late 2012 while a member of the US House of Representatives.
You can share this story on social media: