'Deport Justin Bieber' petition gains sarcastic support from US senator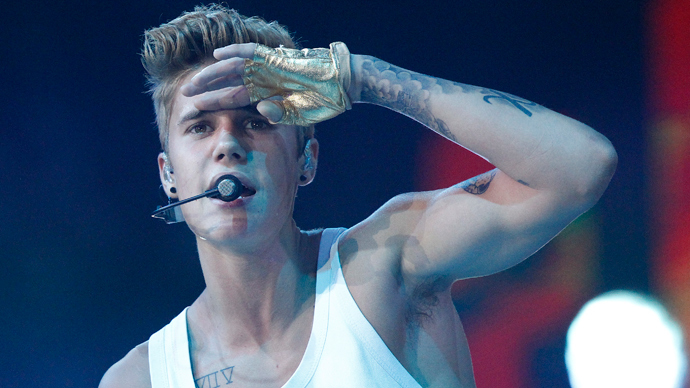 The movement to deport Canadian pop star Justin Bieber has grown so popular in the US that now American lawmakers are weighing in to suggest, presumably in jest, that the singer should be kicked out of the country because of a recent arrest.
In a Tuesday radio interview, Virginia Senator Mark Warner laughed as the hosts questioned him about the petition, which had reached just under 250,000 signatures at the time of broadcast.
"As a dad with three daughters, is there some place I can sign?" Warner joked on WNOR rock radio in Norfolk, Virginia.
The petition on WhiteHouse.gov was started by an unknown individual from Detroit on January 23 – the same day that Bieber, 19, was arrested for racing his exotic sports car while under the influence and resisting arrest in Miami, Florida.
"We the people of the United States feel that we are being wrongly represented in the world of pop culture," the petition states.
"We would like to see the dangerous, reckless, destructive, and drug abusing Justin Bieber deported and his green card revoked. He is not only threatening the safety of our people but he is also a terrible influence on our nation's youth. We the people would like to remove Justin Bieber from our society."
It's true: I'm not a #Belieber. "Senator Mark Warner offers to sign petition to deport Justin Bieber" http://t.co/KQwY6hcN1a

— Mark Warner (@MarkWarner) February 4, 2014
Senator Warner doubled down on his anti-Bieber rhetoric on social media following the interview, with responses ranging from "You're an idiot" to "Don't fear the Biebs."
The White House has promised to offer an official response to any website petition that attracts more than 100,000 signatures. The original requirement was a mere 5,000 but the threshold grew to 25,000 and eventually 100,000 as petitions calling on the White House to begin construction of a 'Death Star' by 2016 became popular.
No matter what the White House replies, though, the charges against Bieber are not enough to have him deported, according to columnist Allan Wernick of New York Daily News.
"The crimes that lead most often to deportation of noncitizens like Justin Bieber are drug crimes, crimes the law calls 'aggravated felonies,' and crimes involving moral turpitude," he wrote. "DUI, drag racing, resisting arrest, and driving without a valid driver's license are not deportable offenses…Crimes involving moral turpitude generally are crimes committed with evil intent."
You can share this story on social media: