Pentagon unable to provide records on drone crashes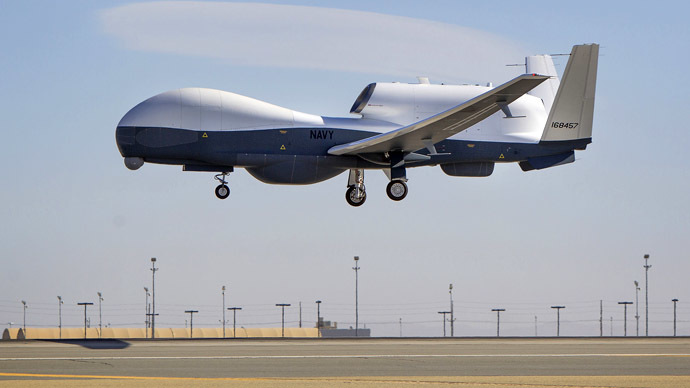 Reporters seeking information on US drone safety and crash data were told by Defense Department officials that multiple searches have turned up nothing, indicating the Pentagon is either refusing to turn over records or it has failed to collect them.
The Defense Department (DoD) provided a report to Congress in January that promised to address the challenges faced by unmanned aircraft systems (UAS). The department not only oversees the military drones that buzz over the tribal regions of Pakistan and Yemen, but also test by the National Guard and other agencies that fly over the continental US.
The DoD's Undersecretary of Defense for Acquisition, Technology and Logistics told lawmakers it had "provided the [Federal Aviation Administration] with 6 years of UAS mishap data" in order to give federal airspace regulators "a better understanding of UAS safety considerations."
But when researchers at MuckRock, a transparency organization that files Freedom of Information Act (FOIA) requests on behalf of the journalists, activists, and historians, sought that "mishap data" they were rebuffed. Shawn Musgrave of Vice Motherboard reported that the office of the defense secretary suggested that MuckRock's FOIA request was "misdirected."
Officials only agreed to conduct a search when they were shown the exact page and paragraph of the January 2013 report to Congress that mentioned the DoD shared the relevant information with the FAA.
Yet that search turned out to be a wild goose chase as well, with the Pentagon advising Musgrave to try contacting another government agency.
"A search was conducted within the Officers of the Under Secretary of Defense for acquisition, Technology, and Logistics who could locate no records responsive to your request," the response noted. "It was suggested that you submit your request to the Army Combat readiness & Safety Center; the Naval Safety Center, and the Air Force Safety center, who may have your records responsive to you request, if they exist."
The government's subversion of the FOIA process is especially frustrating not only the momentum behind drone use is growing quickly, but also because they are vulnerable to hardware problems and other issues that other aircraft suffer. Drone frames can easily be damaged, which may impact a vehicle's aerodynamics, and their power can short-out in the midst of a flight.
The past year alone has seen two drone crashes that each cost the military millions of dollars. An unmanned test vehicle flown by the Air National Guard crashed into Lake Ontario in November and, just days later, two sailors were injured when a drone malfunctioned and crashed into a naval ship off the coast of California.
There are other concerns, as well. UAS vehicles are also susceptible to technology breakdowns that can ruin a flight path or contribute to a "lost link," the term employed when a drone loses contact with its human operator. Security experts have warned that as technology advances, hackers may be able to override military security and take control of a drone.
Part of the Defense Department's reluctance to provide the documents to press (or its inability to do so) could also be blamed on the slow transfer of responsibility. The Central Intelligence Agency has spent years organizing and carrying out drone attacks in the Middle East, although an April 2013 document revealed that the UAS program would be shifted to the Pentagon by the end of 2013.
By late November 2013, though, there was little public evidence that such a change was underway. That month, drones fired missiles at suspected enemy combatants in both Pakistan and Yemen, an example the Washington Post cited as evidence that the CIA was not quite ready to relinquish its power.
Obama administration officials told the Post that the president has sought to put drones under the command of the elite US Joint Special Operations Command, but "the White House vision is a distant goal."
You can share this story on social media: