35 million gallons of coal ash spilled into Dan River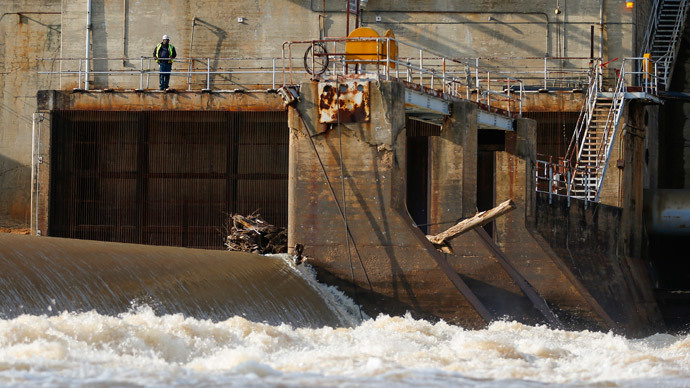 As much as 35 million gallons of coal ash and arsenic-contaminated water spilled into North Carolina's Dan River due to a ruptured pipe at the Duke Energy power plant, a team of researchers said Tuesday.
According to the Associated Press, scientists at Wake Forest University used an aerial drone to create a 3D model of the affected area in Eden, North Carolina. With that model in hand, they were able to calculate the amount of coal ash and wastewater that ended up spilling out of the pipe when it burst on February 2.
Coal ash is the residue that's left behind after coal is burned. It contains toxic chemicals such as arsenic, mercury, and lead, as well as aluminum oxide, iron oxide and more.
As RT reported previously, initial estimates pegged the amount of leaked contaminated water at 27 million gallons. If correct, the latest data suggests that the equivalent of 53 Olympic-sized swimming pools filled with polluted water could have spilled into the river.
The news comes as officials are telling local residents to avoid contact with the water until they finish conducting safety tests. According to CNN, residents are also being advised to not eat any fish caught in the river.
Despite these warnings, officials told local WRAL that the water supply has not been compromised.
For its part, Duke Energy claimed responsibility for the spill and has stated it will pay for the cost of cleanup. It also reiterated that the leaky pipe has been fixed.
"The drinking water has remained safe," a Duke representative told CNN in a statement. "The pipe has been permanently plugged. We take responsibility for this event and also are taking another look at the management of our (14 North Carolina) ash basins."
To some environmental activists, though, that reassurance is not enough. Organized by the Sierra Club, dozens of protesters gathered around Duke Energy headquarters in Charlotte seeking answers about the spill, especially since the company's coal ash depositories have come under fire before for being inadequate.
"We are here to say no more," Amy Adams of Appalachian Voices said to the crowd, according to CNN. "No more coal ash in unlined ponds. No more leaks that seep into our drinking waters. No more stalling. No more excuses. No more hiding behind political allies. We are here to draw the line, Duke."
Meanwhile, an investigation is also unfolding into how and why Duke Energy waited nearly 24 hours to report the spill to the North Carolina Department of Environment and Natural Resources. By the time DENR officials arrived at the scene, millions of gallons of contaminated water had spilled into the river, and water downstream in Virginia was being treated for pollutants.
As a result of the spill, North Carolina Gov. Pat McCrory came out in support of moving waste depositories away from ponds and rivers, and told the News Observer all coal ash should be stored in lined facilities to future leaks.
"The immediate goal is to stop any existing leaks, clean up any ramifications from existing leaks and spills, and third, have a long-term solution and hopefully in most cases move these ponds or put a permanent cap on," McCrory said at a National Governors Association meeting over the weekend.
You can share this story on social media: