Shocker: Average credit card interest climbs to 21%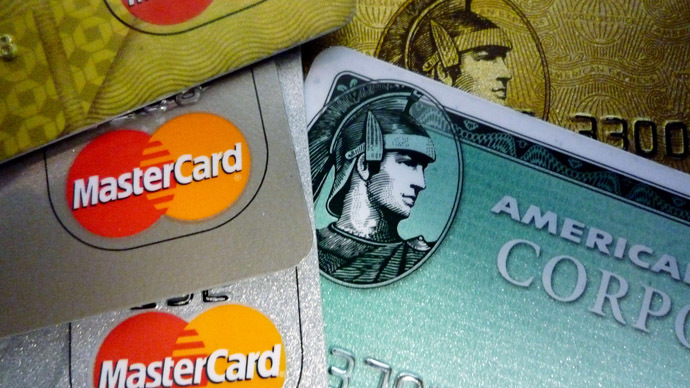 As credit card companies try and spur consumer spending in the United States with introductory perks and cash rewards, they have raised interest rates on other customers to a remarkable 21 percent.
According to a new report by the card-comparison website CardHub, credit card interest rates have risen more than 2 percent compared to one year ago, due in part to the fact that companies are using zero-percent introductory rates to lure in customers before imposing much higher rates after that initial period ends.
"Credit card interest rates were higher across the board during the first three months of 2014 relative to the same period last year –rising an average of 2.12% on a year-over-year basis," CardHub's Landscape report stated.
In addition to rising interest rates, more Americans are taking out cash advance loans that are attached to increasingly expensive fees.
"The average cash advance fee increased more than 10% in Q1, rising to $12.31," CardHub stated. "Issuers have displayed the ability to increase cash advance fees with impunity, as consumers don't tend to factor such costs into their comparison shopping. These dynamics are reminiscent of when past-due and over-limit fees were allowed to get out of hand prior to the CARD Act's implementation."
While interest rates rise, the average initial period offering zero-percent interest has increased by 10 percent over 2013, and cash-back rewards rose about 15 percent as well.
Speaking to the New York Post, a CardHub official stated the situation looks similar to the credit crisis of 2008, when consumers ended up with high-interest debts after companies stopped offering upfront rewards and cheaper deals.
"I think credit card companies are essentially realizing that consumers are more focused on introductory rates," CardHub CEO Odysseas Papadimitriou said. "So they are not paying much attention to what happens after the introductory rates."
He added that a three-percent increase in rates "doesn't seem like much, but in relative terms, that really adds up over the long term."
At the same time, Bloomberg Businessweek reported that thirty-day delinquency rates for credit cards from major companies like Chase and Bank of America are down 19 percent compared to a year ago, suggesting Americans are managing their debts more effectively.
Another reason that could account for lower credit card use is potential fear over identity fraud. Bloomberg noted that cases such as Target's security breach – which saw about 100 million peoples' data stolen by hackers – could make Americans less likely to spend. CardHub's report stated that complaints about identity theft and fraud were up 61 percent over last year.
You can share this story on social media: