Coroner calls inmate's death homicide, deputies insist it's suicide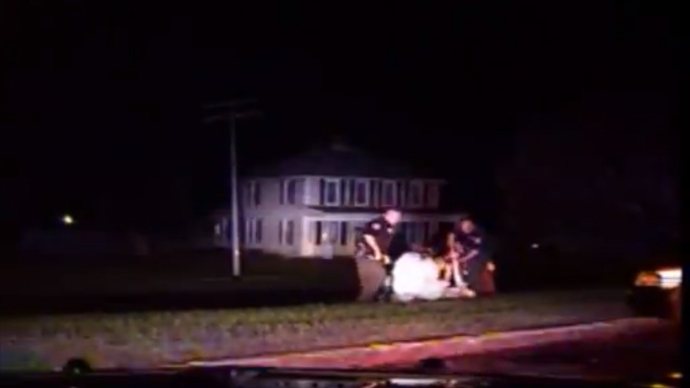 A prison inmate's death in Brown County, Ohio has officials debating whether or not it was actually a homicide.
When deputies found 24-year-old Zachary Goldson hanging from a sprinkler head in a Brown County jail, the death was identified as a suicide. County coroner Judith Varnau, however, recently declared the death a homicide, triggering implications of politically influenced findings.
An investigation is currently underway by the Ohio Bureau of Criminal Investigation (BCI).
The incident began on October 5, when Goldson reportedly swallowed a pen, a toothbrush, and staples in an attempt to show other inmates he could easily bring them back up. The gambit failed, however, and after vomiting Goldson was taken to a hospital by deputies to have the objects removed. On the way back, he allegedly attempted to escape and used his shackles to strike an officer on the head.
Several officials subdued Goldson, and dashcam footage from the response showed one police officer telling the inmate, "I'd like to break your [expletive] neck right now." He was eventually returned to his cell.
Although Goldson was put into paper clothing on arrival to his cell, he was not placed on suicide watch. Roughly 25 minutes later, he was reportedly found hanging from the cell's sprinkler head via a bed sheet.
According to local WCPO, Goldson's mother Christina Dennis initially thought he had killed himself, but has slowly changed her mind as details of the incident emerged. She said her son had never shown signs that he wanted to hurt himself before, and couldn't understand why he'd swallow a toothbrush or attack a deputy.
"He's never done anything like that before," Dennis said to WCPO. "I don't know if that was -- something happened in the jail, you know, that he wanted out of there badly. Something must have really went wrong in the six days he was there because he's been in trouble before and he had never done anything like this."
She also revealed a letter written by Goldson four days before he died, in which he discussed his future beyond prison.
"(I'm) ready to do these 5 years im about to get for these gun charges," Goldson wrote. "Im just writin you to tell you I love you…I'm going to miss you both and Im prayin you are still around when I get out because I don't want to loose my mom while im in jail. (sic)"
Interviews between Varnau and the officers who returned him to his cell showed that deputies believed Goldson to be "agitated" and "shook up," due to the fact that he faced more prison time for attempting to escape.
Still, Varnau's report found that even if he stood on the toilet or bed in his cell, "it would be physically impossible for (Goldson) to reach the sprinkler" placed 9.5 feet above the floor. Goldson was 6-foot-1.
According to WKRC Cincinnati, because Varnau's husband has sued Sheriff Dwayne Wenninger multiple times in the past and is considered a political rival, some officials have looked at the coroner's report with skepticism. The sheriff's department can't comment on the matter until the BCI has completed its investigation, but Chief Deputy J.K. Schadle seemed to suggest in a statement that Varnau's findings were politically motivated.
"The Brown County Sheriff's Office contacted BCI upon the discovery of an in-custody death," he said to WCPO. "The (sheriff's office) has full confidence that BCI will reach their conclusions based on facts, not someone's political agenda."
Varnau insists there's nothing political about her conclusion, however, and she had not accused any deputy of wrongdoing. She added to WLWT that the marks on Goldson's neck aren't typical of a hanging by bed sheet.
If the BCI investigation rules the death a suicide, a judge could ultimately force Varnau to alter her findings.