Survivalist faces charges for teaching in self-built school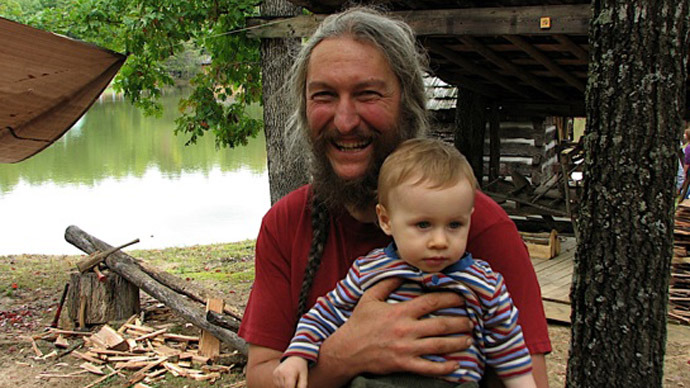 Eustace Conway has lived in the wilderness of the Appalachian Mountains for 30 years, detached from modern society. Now, he wants to teach others his survival skills – but the state of North Carolina has slammed him with a series of violations.
The 51-year-old man has traveled from coast to coast on a horse, faced down a grizzly bear, defeated a thrashing buck with his bare hands, grown his own food, hunted game, made clothes out of animal skin, and survived harsh winters on snow-capped mountains.
Few are as qualified as Conway to teach basic survival skills. After 30 years in the wild, Conway set up a camp called "Turtle Island" to show kids how he lived in the wilderness – from cooking on fire to gathering herbal medicines. But in November 2012, the state of North Carolina forced Turtle Island to shut down, on grounds that the camp violated building code regulations.
"These buildings aren't fit for public use," Joseph A. Furman, Watauga County planning director, told the Wall Street Journal. Conway's camp includes primitive facilities that he says are free from modern trappings. He built them himself, and says that "codes don't apply to what we're doing" at Turtle Island. But the state is preventing anyone from escaping its iron grip, in terms of what qualifies as a 'building'.
"Modern inspectors know how to measure a board, but not how to build a building," he told the WSJ.
The Watauga County planning department has slammed Conway with a 78-page report outlining the health and sanitary violations of Turtle Island. The county claims that Conway's open-air kitchen and toilets made of sawdust are not permissible for a public facility. And unless the common area has a conventional restroom, fire sprinklers and smoke detectors, his entire camp must remain shut down.
Even though Conway has proved his self-reliability and even been featured in a History Channel show called "Mountain Men", he is being forced to adhere to conventional modern society – if he wants to avoid prosecution, that is.
The shutdown of the camp has angered Conway and nearly 13,000 supporters who have signed an online petition, asking the North Carolina Building Codes Council to change its codes to exempt structures like Turtle Island.
"The very building techniques and materials that all of our ancestors thrived with are now being deemed unacceptable and targeted as illegal because they don't fit into the cookie-cutter code status that is so extremely far from what we are about," the change.org petition reads. "…The invasive attack [by the county] was a surreal wake-up call to the illusion of the American myth: 'Land of the free.'"
Conway is now facing the threat of criminal charges for running a camp that didn't comply with modern society's strict building codes. The 51-year-old had saved up money he raised from speaking engagements and survival courses to purchase the 1,000-acre property that he called Turtle Island. But despite his ownership, survival skills, and the purpose of the wilderness camp, the county is threatening to prosecute him unless he upgrades his buildings to conform to the modern age.
"If this was a joke or something out of a science fiction novel about corrupt government control, maybe I could laugh about it… but it is very, unbelievably, maliciously true," the petition quoted Conway saying. "And I can only cry about it, and ask for the voice of friends to support me and citizens that care about the 'American Dream' of freedom to speak up for their rights and interests now."
You can share this story on social media: