Convictions at risk as NYPD under investigation for warrantless searches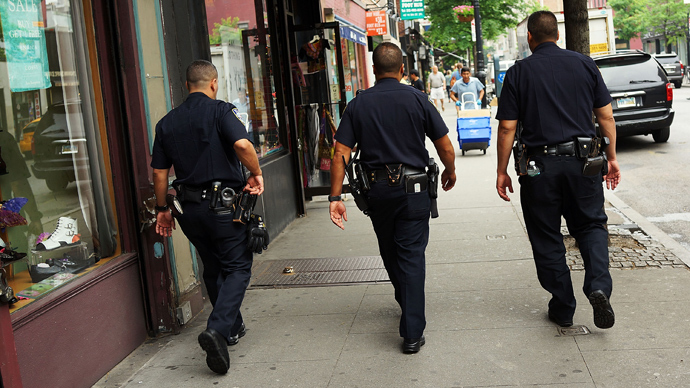 A slew of drug- and firearm-related arrests are now in doubt because the New York City police officers that made the initial seizures may have conducted their searches without a warrant, according to a new report.
Four men were arrested in a Brooklyn recording studio on September 15, 2012 after a group of NYPD officers could plainly see heroin and marijuana on a table. Ecstasy, crack cocaine and ammunition were also found after police searched the studio.

But the police, according to an NYPD Internal Affairs Bureau report seen by the New York Daily News, may have jeopardized the case by forcing their way into the building and conducting the search without first obtaining a warrant.

At least seven cops are accused of moving bags of heroin from the back of the studio to a table within sight of the entrance. They photographed the drugs there in an effort to justify the search under the plain view doctrine, which gives police the authorization to supersede a warrant if evidence of criminal activity is visible.

"These cops are corrupt. They should be off the streets," Reginald Sykes, one of the men arrested ten months ago, told the Daily News. "They used illegal methods to make arrests. Who's to say they wouldn't do that to a completely innocent person?"

The department's own records indicate the internal investigation has delayed at least nine criminal cases, spanning four similar incidents when the Brooklyn police unit is accused of stealing jewelry and thousands of dollars in cash.

Sykes, 24, has served prison time for burglary and assault but told the Daily News that Officer David Grieco, one of the investigators named in the Internal Affairs report, offered to drop the drug charges if Sykes was able to produce a gun by midnight on the night in question.

"He was saying, 'Look, guys, I got 150 guns off the streets last year. If I can get more this year, I'll get promoted and can transfer closer to home. Just get me a gun,'" Sykes is quoted as saying from the Manhattan Detention Complex.

Most of the charges have been held up or dropped altogether, but for an entirely different reason: nearly one year after the Brooklyn raid, convictions for the four men arrested are still nonexistent.

"It's a headache for the prosecutors because every time any of the cops has to testify, they have to turn over this information, which will adversely affect their credibility," said Dan Castleman, a former prosecutor in the Manhattan district attorney's office.

This news comes one week after a contingent of on-duty police officers in Queens were photographed wearing shirts adorned with a select Ernest Hemingway quote.
"There is no hunting like the hunting of man, and those who have hunted armed men long enough and liked it, never care for anything else thereafter."

You can share this story on social media: