Dying for tickets? Contest rewards Morrissey fans for their best suicide note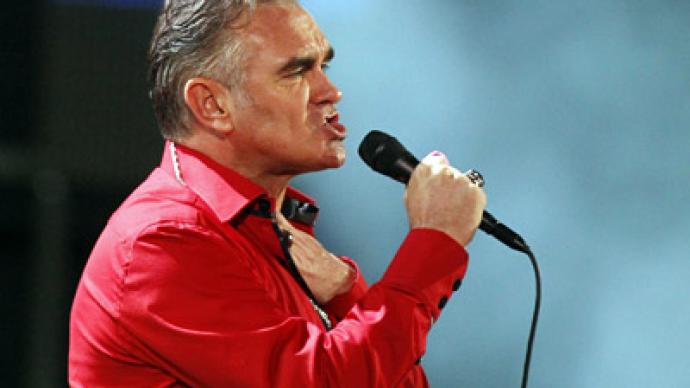 Stop me if you think that you've heard this one before: a DC-based website has pulled the plug on a promotion that had them asking readers to write their best original suicide notes for a chance to win tickets to see British rock singer Morrissey.
The Washington, D.C. entertainment site BrightestYoungThings.com is a hub for all things hip in the nation's capital, but they're now seeing some significant backlash after they offered fans a chance to win seats at an upcoming performance by formers Smiths singer Morrissey by way of a rather questionable contest. Instead of spending upwards of $85-per-seat at Morrissey's DC area show scheduled for later this year in nearby Bethesda, Maryland, BYT was rewarding their readers with tickets in exchange for their best bid adieu. Although Morrissey might be infamous for his macabre lyrics and dark-hearted but heated prose, critics were quick to fire back at BYT for what some say was making light of a very serious situation. The National Institute of Mental Health lists suicide as the tenth leading cause of death in the United States as of 2010, and clocked 34,598 self-caused casualties that year alone. Administrators for the site say they weren't exactly in the wrong, though. After all, they argue, it was only fitting since Morrissey sings about suicide and, in a 2009 interview with the BBC, called the notion of killing ones' self "honorable.""The suicide note prompt was an idea generated by a few colleagues after mulling over his body of work… the death and suicide themes that riddle his lyrics and his public admonitions of seeing suicide as honorable or even favorable," BYT managing editor Logan Donaldson tells the Washington City Paper. "As with many of our giveaways we wanted to be thematic, and working under the assumption that his most enthusiastic fans would be responding to a first-chance giveaway and would be well acquainted with his maudlin, macabre persona, we saw it as a tongue-in-cheek opportunity to stoke the creativity of the Morrissey fans within our readership."Does it make sense? Maybe. Morrissey has earned the moniker "The Pope of Mope" not for exactly being the alternative rock singer with the sunniest of dispositions. But to show just how seriously critics were reacting, the City Paper added in their article a quote from one of the would-be contestants who condemned the contest:"[M]y friend committed suicide a year and a half ago. [Y]ou want me to transcribe the note he left me here?"After the City Paper published that response, BYT's Donaldson dragged himself back into the mess by responding one more via email:"We appreciate you wanting to be thorough on this and we feel we've been very cooperative in the process, but we felt that since our goal wasn't to ruffle any feathers with this in the first place, and the original post featured comments from our readers that chose to participate in the contest which were now being called out as inappropriate as well, taking the giveaway down from the publicly published side of things was the way to go at this point. That way it won't cause any more potential aggravation. If the thing can be put to rest (no puns intended) – we feel that would be best."The Brightest Young Things website has indeed since stripped the contest from their servers, and Logan says, "The reality of suicide is obviously horrifying, and in no way were we promoting or suggesting otherwise. We didn't foresee upsetting a few of our readers in our attempt at being cute with the giveaway theme. "Tickets for Morrissey at the Strathmore in Bethesda sold out shortly after going on sale on Friday. And, for those really dying to know, the UK's NME reports that Morrissey told a crowd during a 2009 performance that he'd opt to end his life with sleeping pills, "because I might want to make a quick exit."