Congress won't allow Pentagon to save money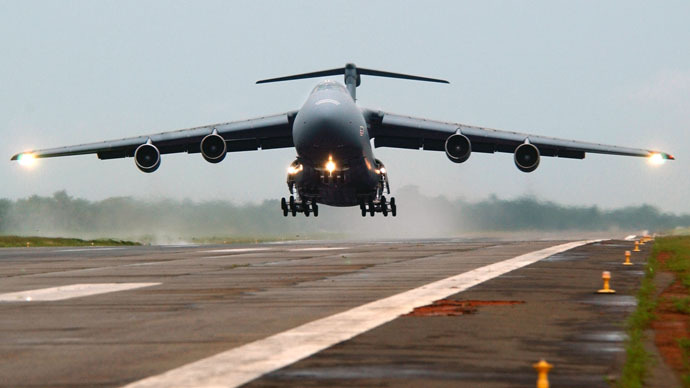 Although Congress has ordered the Pentagon to cut $487 billion in spending, lawmakers are also forcing the department to keep unaffordable and unnecessary programs and equipment running, making it impossible to save money.
The Pentagon has long wished to retire some of its aircraft, ships and other military equipment, but is being forced to use its budget to keep them in service. Military officials claim that the Navy and Air Force are spending $5 billion more than they would if they could retire their old vehicles, many of which are parked at airstrips or warehouses, the Associated Press reports.

The Pentagon begrudgingly keeps its C-5A Galaxy transport planes and other expensive vehicles in service, despite the fact that it has no money to operate them, repair them or employ them. The Air Force recently hoped to save $600 million by retiring the C-5A and C-130 aircraft, 18 high-altitude surveillance drones, and three B-1 bombers, but Congress rejected the request and insisted that the equipment be maintained.

The Air Force has newer C-5 models and no longer needs the old ones – especially since they are costly to maintain. Lockheed Martin, which has previously come under scrutiny for "trying to squeeze every nickel out of" the Pentagon, is contracted to modernize the planes.

The Navy has also been denied the right to retire seven cruisers and two amphibious warships, even though it would save $4.3 billion over the course of two years.

According to AP interviews with senior military leaders, lawmakers are reluctant to having bases or programs moved from their districts.

"A lot of it comes down to parochial political interests," Todd Harrison, a senior fellow at the Center for Strategic and Budgetary Assessments, told AP. "No member of Congress wants to have a base closed in their district or to have a fighter squadron relocated out of their district."

But Pentagon officials claim that because they are being denied the ability to save money, they are being forced to furlough civilians, reduce the number of Air Force training flights and cancel international ship deployments to stay within their budget.

Maintaining aircraft requires money for fuel or manpower to fly them, even if they will never again be deployed.

In some cases, keeping the machinery provides economic advantages to the community where the equipment is stored or parked. Local officials near Pittsburgh, Pa., argue that the 911th Airlift Wing base, which stores eight C-130s and uses space rented from the Pittsburgh International Airport, brings in a stream of money for local residents. When Congress denied the Pentagon the right to shut it down, lawmakers hailed the decision as a victory.

But aside from retiring old equipment and closing Air Force and military bases, the Pentagon has also been pushing to reduce military retirement benefits.

"I think there's a misunderstanding in Congress about what it is that would change," Harrison said. "They tend to associate changes in retirement benefits with changes to veterans benefits."

Harrison told AP that only 17 percent of service members stay in the military long enough to qualify for retirement, and most of these are senior officers with high incomes. Veterans benefits are included in the Veterans Affairs Department budget, not the Pentagon's, which Harrison says is a common misunderstanding.

With excess infrastructure, transportation equipment and a costly retirement program, the Pentagon is struggling to save money, even though it knows exactly how to save at least $5 billion. But because of Congress' refusal to allow the department to retire its old equipment, the Pentagon is being forced to furlough employees to compensate.