Weapons manufacturer bribes Congress to buy tanks that Pentagon doesn't want?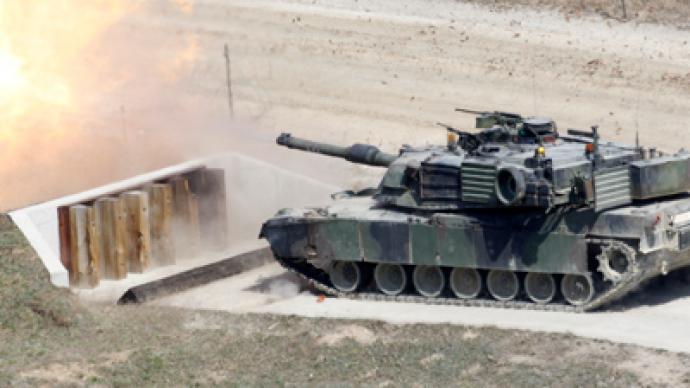 The Pentagon wants to save $3 billion by freezing refurbishing work on its M1Abrams tanks, but the tank's manufacturers are donating to Congressional campaigns to bribe members of Congress to lobby for their continued funding.
While the M1 tank has survived the Cold War, two conflicts in Iraq and the war in Afghanistan, its value has declined in US efforts abroad. Aside from being vulnerable to improvised bombs, the tanks don't serve much of a purpose while warfare is limited.Their primary purpose is to destroy other tanks, according to Paul D. Eaton, a retired army general. Their usefulness is therefore limited in modern counterinsurgency warfare. The US Army already has more than 2,300 M1's deployed and about 3,000 more being stored at a military base in California.Instead of continuing to pay for the M1's, which each weigh as much as nine elephants, the Pentagon, facing smaller budgets, wants to instead use its funds to redesign the vehicle.If the Pentagon is required to continue funding the tanks, it will refurbish "280 tanks that we simply do not need," said Army Chief of Staff Ray Odierno in a February hearing.But the Center for Public Integrity has found that General Dynamics, the tank's manufacturer, has been donating to Congressional campaigns of members who are likely to influence the decision regarding the defense budget.  In a two-week period last year, the company sent lawmakers checks for their campaigns that totaled nearly $50,000, coinciding with the defense bill's final passage last year.The manufacturer has donated an average of $7,000 a week to members of the four key defense committees – the Armed Services committees and defense appropriations subcommittees in the House and Senate. Since 2001, these members received a total of more than $5.3 million in campaign donations from General Dynamics."We target our PAC money to those folks who support national security and the national defense of our country,"said Kendell Pease, General Dynamics' vice president for government relations and communications."Most of them are on the four (key defense) committees."But instead of being consistent, donations have spiked drastically during key decision-making events regarding the defense budget, which may suggest the company has an agenda.In March 2011, during the Army budget hearings, General Dynamics donated more than $20,000. Two months later, General Dynamics had donated $48,100 to members of the four key committees, and the House Armed Services Committee (which received more than half of the donations) voted 60-1 for a budget bill that continued to fund the M1Abrams through 2013.Donation spikes continued to occur throughout 2011 at times when the budget was being discussed by legislators. The final spike came during the second week of December, when Congress made its final decision on defense spending.Additionally, General Dynamics spent at least $84 million on lobbyists in the past 11 years, pressuring Congress to fund military and nonmilitary programs at the firm.And the donations may have won over lawmakers' support. Last year's defense bill included a budget for the M1 tanks. This year, the House of Representatives and Senate Armed Services committees have authorized it again, allotting  $181 million in the House and $91 million in the Senate.Pease considers the manufacturer's extensive lobbying efforts as nothing more than"education" to tell Congress their side.