Obama administration asks Congress to hold off on new Iran sanctions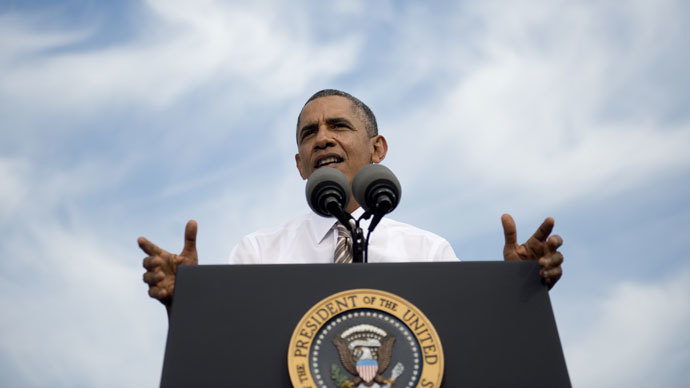 A top US State Department official urged members of Congress Thursday to hold onto fresh sanctions against Iran until President Barack Obama's administration can assess the new conciliatory tone from the Iranian government.
"Let me assure you that we will continue to vigorously enforce the sanctions that are in place as we explore a negotiated resolution, and will be especially focused on sanctions evasion and efforts by the Iranians to relieve the pressure," Wendy Sherman, undersecretary of state for political affairs, said during a Senate Foreign Relations Committee hearing.

The US, United Nations, and European Union have all joined to press Iran with punitive sanctions for what they say are measures to curb Tehran's nuclear weapons program. Iran counters the claims, saying that it simply aims to produce and use nuclear energy. The sanctions in place have devastated the Iranian economy, cutting oil exports in half while causing crippling inflation and high unemployment.

Yet new President Hassan Rouhani has recently expressed a desire to reconcile with US officials, marking the possibility of new relations between the countries.

Sherman asked lawmakers to at least wait until US and Iranian officials meet in Geneva in mid-October before moving forward with more sanctions.

"In terms of legislation that is currently being discussed here on the Hill, we do believe it would be helpful for you all to at least allow this meeting to happen on the 15th and 16th of October before moving forward to consider those new sanctions," said Sherman, who is leading the US delegation in talks with Iran.

The UK, Germany, France, Russia, and China will also participate in the Geneva talks, although direct Iran-US meetings are expected be the most important of the negotiations.

The US Senate is weighing a new round of fresh sanctions against Iran following the passage in July of a House bill that would seek to further cut Iran's oil exports by another one million barrels a day for the next year to almost zero according to reported estimates. The legislation also vows military force against Iran should they defy orders not to pursue a nuclear weapon.

Rep. Trent Franks (R-Ariz.), who drove the bill in the House, told the Guardian the legislation is designed to strengthen the US case during any talks and to "inject into the discussion the importance of Mr. Obama not making a bad deal – because a bad deal is worse than no deal at all."

Franks added that any offerings or promises made by Iranian officials in the talks would be met with automatic suspicion by conservative members of the House. The sentiments echo comments this week by Israeli Prime Minister Benjamin Netanyahu that overtures from Rouhani come from a "wolf in sheep's clothing."

Sanctions on Iranian oil exports, shipping, and insurance businesses cost the Islamic Republic billions in revenue each month. Existing measures already pressure countries including China, India, and Japan to reduce importing Iranian oil by threatening to block their banks from the US financial system.

Sherman reiterated to lawmakers that the administration maintains a strict line with Iran and will only accept "concrete, substantive actions" by its government.

"I can assure you, if [Iran does] not come on the 15th and 16th with that substantive plan that is real and verifiable, our Congress will take action, and we will support them to do so," she said.

She asked the Senate to allow the administration "the time to begin these negotiations and see if, in fact, there is anything real here with my telling of the Iranians quite directly that if there isn't, that everyone is ready to act."

Sherman also warned during the hearing that the current government shutdown is curtailing the government's ability to oversee the existing sanctions.

"Our ability to do that, to enforce sanctions, to stop sanction evaders, is being hampered significantly by the shutdown," she said.